Paint has the potential to make a big impact on your workplace. You can add a fresh coat or switch up the color outside for an exterior refresh. You can also use paint to create an interior that's as unique as your company itself.
No matter the project, there is likely a suitable paint option out there. Different paints adhere to different materials differently so choosing the best one will give you long term durability. You can even look at options that protect your surfaces and provide added benefits. When it comes to painting commercial businesses, these are the types of paints that we use.
Paints for Metal Applications
Metal can be a very tricky surface to paint properly. The surface preparation is extremely important. Choosing the correct paint is also vital to the outcome and long-lasting durability.
Painting for Machinery
Machinery often comes in standard black or grey hues. Changing up the color allows you to make it both visually appealing and functional. It's important that machinery is painted properly so that the finish is both long-lasting and doesn't impact the machine.
A high-quality urethane is usually the best option for painting machinery. It adheres well and cures to a hardened coating that is extremely durable. Epoxy can also be used depending on the sheen that is desired. Either way, the finish will last longer on these high-touch surfaces than with that of just normal paint.
These systems allow for customizing the coating to your unique needs and to the type of machinery. Additives can be used to make the coating more resistant to extreme temperatures, even open flames. Moisture resistant additives can be helpful in reducing mold and mildew for machinery in humid or wet environments. The coating can even be adjusted to withstand exposure to harsh chemicals.
Prep is essential to making sure the coating adheres properly. Machinery will be meticulously cleaned prior to painting. Machine parts that should be avoided will be carefully covered to ensure they are protected. The area around your machinery will also be covered to avoid any spills and splatters. Then, your machinery will be expertly painted, resulting in an impressive update to your workplace.
Painting Ceilings and Pipes
Drywall ceilings just don't make sense in many spaces. However, open ceilings with pipes and wiring can be unsightly. Often, painting an open ceiling is the best option to make it look more presentable.
Freshening up a dark, dreary ceiling can make a big impact on your space. Plus, it will make it brighter and easier to illuminate properly. You may even save on lighting costs.
A paint that is designed to dry fall is usually the best option for ceiling applications. It helps avoid any paint that doesn't stick to the ceiling from adhering to other surfaces. This allows the paint to be sprayed upward, creating a more uniform application and coating any wires and pipes.
A high-quality dry fall acrylic paint can be a good choice for ceilings. With options for mildew resistance, it's ideal for a wide range of surfaces like metal, PVC, and wood. This makes it ideal for ceilings with a wide range of materials present. A high-hiding formula ensures that you receive a uniform finish, despite the varying colors of ceiling components like wiring and ventilation.
Exterior Paints for All Surfaces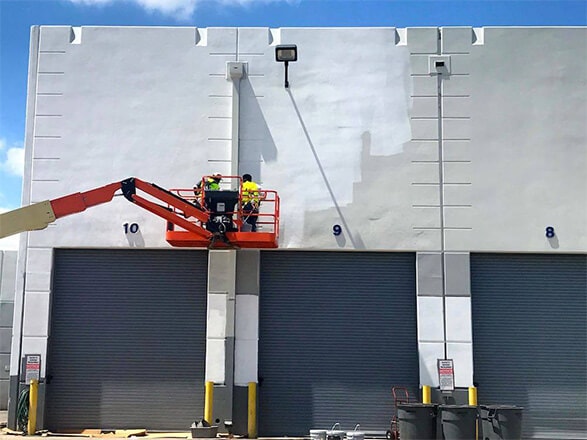 A fresh coat of paint on the exterior of your building can boost its curb appeal. Your business will be more welcoming to customers and employees. A polished look on your exterior provides a great first impression.
Stucco and Brick
Stucco and brick exteriors can suffer from staining over time. They can also fade and look worn and old. A good paint job can bring new life to these surfaces.
However, stucco and brick are a little more complicated to paint than smooth surfaces. They require both special prep and specifically formulated paint. Spray application or using specially designed rollers ensures a smooth, even coating.
Exterior paint that's designed for use on brick and stucco will provide the most coverage and long-lasting finish. Elastomeric, acrylic, and latex can all be suitable for applications. Either way, a flat sheen usually looks best and the most natural. Paints that are mildew resistant are helpful in keeping the exterior of your building looking fresh and clean.
Siding
Are you wanting to change up the color of your vinyl siding? Fortunately, with special techniques, it can be painted and updated. The results can be a cost-effective alternative to replacing your siding.
Paints that are specially formulated for vinyl siding are ideal. Lighter colors are best as they don't absorb as much damaging heat. Acrylic and urethane resins provide the best adhesion and long-lasting coverage on vinyl. They are designed to expand with the vinyl as it reacts to the heat.
Parking Lots
You want your parking lot to be safe and well-marked. Marking everything from directional traffic to clearly defined spots can make moving about your lot go more smoothly. Clearly marked handicap spots and fire lanes ensure your business is in compliance with laws and ADA regulations.
Waterborne acrylic alkyd paint can ensure that your lines are there to last. Formulated to be highly visible, this paint can create crisp lines for clearly defined parking spots and curb markings. Its durability makes it a great choice to withstand traffic and outdoor elements.
Protective Paints
Investing in a quality paint job can help preserve and protect your surfaces. Specially formulated paints can aid in the prevention of damage caused by things like rusting. They can also add an extra layer of protection against the wear and tear many surfaces suffer from.
Paints to Prevent Rusting
Rustproof paints are a great way to protect your metal equipment from suffering damage and erosion. These paints block the pores in metal where moisture settles, leading to rust. Both latex and oil-based versions can be used for great coverage. A rustproof primer can add an extra layer of protection.
Paints to Protect Surfaces
Enamels formulated to cure to a hard layer can protect surfaces. This can make them more resistant to damage, especially in high-traffic areas. This extra barrier from the elements can help prevent everything from mold and mildew to scratches and dents.
Internal Paint for Businesses
The inside of your business is just as important as the outside. Your employees will have a sense of pride when they arrive at work and your decor can positively affect workplace morale. A well-designed interior is impressive and welcoming to customers as well.
Paints that Make a Statement
Latex paint is usually the best choice for interior projects. It is available in an endless range of colors. With several finish choices, you can create nearly any look for your space.
Latex paint can be used to create stunning murals and crisp wall art. You can choose colors that align with your company's brand. It is also cost-efficient and widely available, making it a great choice for a wide range of interior projects.
Durable Finishes
Satin, semi-gloss, and glossy finishes can be good choices for high traffic areas and high touch surfaces. Their durability is great to withstand high levels of wear and tear. This eliminates the need to constantly repair and repaint these areas.
If you still desire a matte look, a flat enamel can be a durable option. It dries to a hard surface and can often be scrubbed clean. Plus, the lack of sheen can help hide imperfections.
Maintaining Your New Paint Job
When cared for correctly, your new paint job will last for many years. Each type of paint should be maintained according to its unique specifications. Following the directions for your surfaces will help keep them looking their best.
Regular cleaning is important to avoid damaging build up. Reducing moisture helps prevent mold and mildew. Having your exterior walls power washed regularly helps keep them looking fresh and clean.
Why Omega Inc.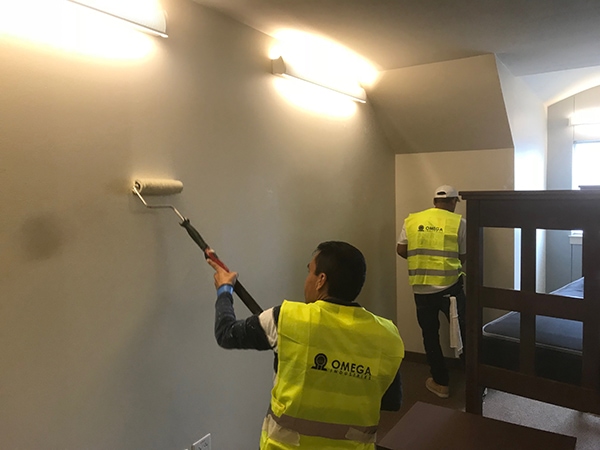 Omega painting crews know the ins and outs of painting on all kinds of materials. We have experience in a wide variety of environments and situations. Our Commercial Painting Contractors in Dallas are ready to tackle whatever project you are envisioning.
At Omega, we can help you select the best paint options for your specific situation. We can use the proper techniques to ensure you get the most of your project. Working with you, we'll find an exterior or interior paint solution that you'll truly love.