Omega Industries is a privately owned, national-focused coatings company proud of its world-class capabilities that span the entire customer-value chain.

Omega Industries is a privately owned, national-focused coatings company proud of its world-class capabilities that span the entire customer-value chain. We perform an effectively integrated business model that comprise a wide range of commercial & industrial painting, line marking and paint manufacturing services. We also aim to deliver single-source solutions for our clientele belonging to some of the most prestigious private and public organizations in the world.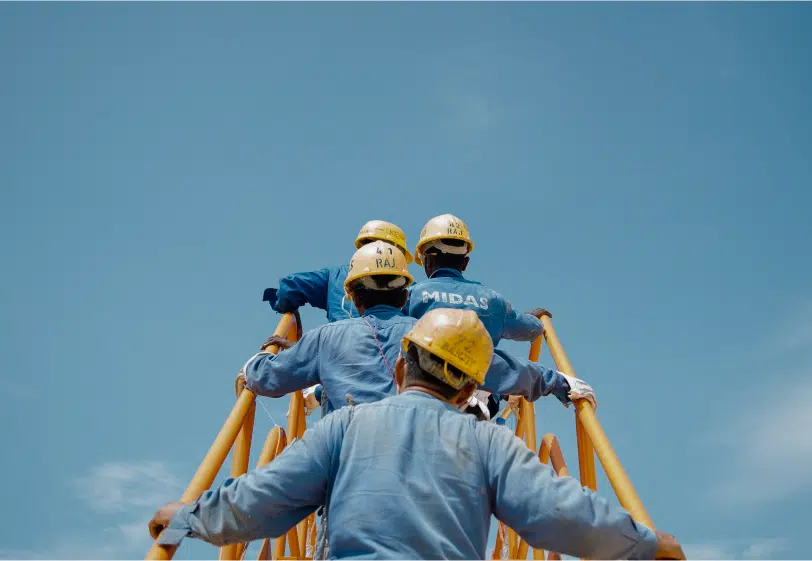 Omega Industries is committed to the growth of Excellence Plus performance. The company sets difficult levels of targets in all its global operations to ensure that application of Excellence Plus performance element are effectively done. These elements are; Client Focus, Innovation, Responsible Behaviour and People Development.By applying the elements, the company will achieve its goal to be the stakeholders' first choice. Additionally, the company also aims to have the ability to challenge, dispute and change the common poor practices that has become dominant in the construction industry, as well as to be a strong competitor in the tough business world.
At Omega Industries, it is our objective to ensure client satisfaction by ensuring that we deliver what we promised – no matter the complexity and the scale of the task in hand. In our aim to be able to discuss all important matters effectively, it is our practice to collaboratively work with our clients. We intend to let our clients know that they play vital roles in the entire process solutions development – from concept to every project stage to completion. We also make sure that only the best resources are implemented and the highest level of expertise are deployed, to attain the necessary cost, time, quality, sustainability and safety results. Simply put, we are focused on understanding our clients' needs so that we can successfully deliver what we promised.
We are a company dedicated to harness innovation in order to create positive change in the industry. This mindset is culturally instilled in all components of our operations and project delivery. It has been our practice to invest in thorough research and development with the help of our university partnerships; from which the theories are taken from to be processed on operational levels performed in the engineering and manufacturing facilities.
We truly understand that we need to be responsible at all times and we do that by managing our people and our environment impacts proactively. It has always been a part of our operations to work in accordance with our founding shareholders' guiding principles to comply with Global Code of Conduct standards. We particularly put the safety of everyone affected by our operations on top of our priorities. Our goal is to prevent and then totally eliminate possible accidents on every project by the year 2020. By implementing modernization on our construction practices and methods, we aim to effectively reduce our environmental impacts
We consider our people to be the heart of our dedication to challenge and change the poor practices in the construction industry. It is our belief that it is essential to employ and develop the best human resources in the industry. We challenge them to do their best by finding and following a better route and in delivering excellent service for our clients, while leaving a lasting and impressive legacy in the communities that we serve. Talent needs to be nurtured from the start and at Omega Industries, we provide educational tools and trainings that can help in engaging and motivating our people to gain knowledge that will drive them towards rewarding careers available in the engineering and construction industry.
Established in 1987, the company then known as Omega International Coatings Pty Ltd; was a small light industrial paint company based in Sydney. Its only manufacturing facility was in Mount Druitt, NSW which produced industrial paints, varnishes and thinners
Omega International Coatings Pty Ltd continued its exponential growth and in 2007 acquired Apco Coatings (subsidiary of multinational paint manufacturer Asian Paints) and then broadened their scope into automotive, decorative and specialty paints.
From a production capacity of 170 tonnes/week in 2015, the organization has come a long way to further expand operations by entering into the paint service and applications sector. After acquiring paint contracting company Omega Painting Pty Ltd in 2011, the group revamped their marketing image under one simple banner "Omega Industries", releasing Australia's first vertically integrated paint company with the new "Supply & Apply" concept.
Today, having solely used and developed the name and trademark Omega Industries and all its variants in Australia, is now a commercially recognized coatings business. With the Head Office in Sydney, the company manufactures and markets a range of decorative and industrial paint products and application services under various product brands.
Its operations spread across the length & breadth of the country. There are two manufacturing facilities in Australia as well as distribution centers, and several regional and area offices.
The senior leadership team at Omega Industries has the breadth of expertise and depth of experience necessary to drive our strategy and continue to deliver profitable performances from our core business operations.
Omega manufactures superior paints from its raw material stage all the way to the paintbrush on the wall. Not only is this a cost-beneficial solution for the consumer but also ensures complete warranty on any project, preventing the blame game between manufacturers and applicators when problems arise.
Our financial stability has been a major advantage to clients where their confidence are low in the building industry's notorious and volatile marketplace. Since our hands are in almost every pot of the industry, we have effectively distributed risk and have provide our resilience through dynamic actions in unforeseeable events.
Benefits of using an integrated paint company
Immediate response time
Complete responsibility on product & service
Direct contact with one source
Cost effective
Consistent quality
Complete environmental & waste control
Omega Industries is a leading commercial paint contractor. We've achieved this enviable status as a direct result of our dedication to customer service excellence.
We have a highly professional team of both commercial painters and a manufacturing team steadfast in their commitment to your job. They'll ensure that your painting project gets completed on time and on budget. This, alongside our effective project management techniques, makes for a unique commercial service unparalleled by others.
Omega Industries is a family owned and operated paint manufacturer & applicator specializing in commercial and industrial painting, line marking, fireproofing, scaffolding and support a myriad of clients in both commercial and industrial sectors throughout Texas (USA), Australia, New Zealand and Malaysia since 1987.
Capabilities
Abrasive Blasting and Removal of Coatings
Line Marking & Signage
Fireproofing Services
Rope Access & Abseiling Painting
Paint Manufacturing & Laboratory Services
Omega Industries operates carefully selected booming global locations, Dallas (USA), Sydney (AUS), Brisbane (AUS), Kuala Lumpur (MY).
Dfw service locations
Addison Allen Argyle Arlington Aubrey Bedford Carrollton Colleyville Fort Worth Cross Roads Dallas Denton
Euless Fairview Farmers Branch Flower Mound Fort Worth Frisco Garland Grapevine Highland Park Hurst Irving Justin
Keller Lake Dallas Lewisville Little Elm Lucas McKinney Mesquite MurphyN. Richland Hills Parker Plano Prosper
Providence Richardson Roanoke Rockwall Rowlett Sachse Savanna Southlake The Colony Trophy Club University Park Wylie
Our vision and strategy for the business guide everything that we do and form a compelling and relevant ambition for our employees and stakeholders.
We pride ourselves on having a straightforward mission and strategy. Based on the values of the founding shareholders, they are clear, powerful and relevant to the business challenges of today and tomorrow. Together they form a compelling guide to what our goals are and how we will achieve them.
To be the company of first choice for all stakeholders.
To challenge and change the Painting industry worldwide.
To be lean and agile in the adoption of processes to compete with world-leading businesses.
Make safety personal and work responsibly.
Lead by example.
Work as one team, listen to everyone.
Find or follow a better way.
Deliver on our promises, aim to exceed.
Collaborate with Clients and Partners.
The essence of Omega Industries vision centres on it becoming an Complete Business Solution, driven by innovation and with technical excellence in design, manufacturing and construction at its core. Commercial Painting excellence, coupled with pro-active adoption of beneficial new technologies and an active human capital agenda that attracts and develops the very best people to work with the company, are at heart of this trajectory. Building on the current momentum in the business this vision will allow us to create new and sustainable competitive advantages in the difficult market circumstances that are expected to persist over much of the coming period.
The Group Strategic Roadmap (GSR) provides the framework which defines the direction and shape we will pursue over the medium term. It provides a clear mechanism that enables us to fully understand the operating environment and prevailing market forces, prioritize objectives and allocate the necessary resources to achieve our strategic goals.
At Omega Industries, we are proud to say that we are constantly on the move. It is a vital part of our culture to incessantly seek ways for improvement. This is the philosophy highly visible in our dedication to continuously challenge ourselves and change the whole industry from within.
In our attempt to carry out this remarkable journey, we identified ideal behaviours, formalised them into what we do on day to day basis, and then embedded them through our business culture worldwide.
Above all, our business evolution reflects the values and experience of our founding shareholders. It is our objective to preserve the welfare, safety and health of our people as we acknowledge their efforts and dedication in the construction industry. Thus, we consider them as our paramount value. We express our gratitude to our people by implementing 'Zero Waste & Harm' objective so that we can effectively eliminate all waste and accidents from our company by the year 2020.
Omega is first and foremost, a projects business. We are highly involved in major projects and we strive for successful delivery. We try to live by the saying " projects are the engine room of the business".
The main foundation of project-focused activity is self-reliance and fostering individual strength – a vital aspect of an organisational mission to generate a lasting enterprise that discovers expression in the one-team approach that put emphasis on self-delivery.
We acknowledge that it is also an important trait to have passion for entrepreneurialism, engineering and excellence, as well as for investing in the latest innovation so that we can successfully contribute to the generation of an extensive business that has engineering superiority at its core.
When it comes to culture, Omega Industries – as an organisation – is eager for success. We are a company that demands loyalty, high performance and effort.
This culture is our organisation's enduring force for our worldwide activities and it is manifested through our business values.
Personal safety and responsible working – working safely and responsibly is a big part of our business. We are always making sure that in everything we do, we consider the safety of our people, as well as the communities where we operate. It is our commitment to safely deliver projects wherever in the world we work, and thus we can guarantee the protection of the environment for the future generations.
Leading by example – to engineer and construct a fit-for-purpose built kind of business can be very complex. It is important to have vision, the valor to deal with challenges, as well as to have the ability to speak up and to stand up for what we truly in believe in order to achieve the best outcomes. It is our deepest desire to do things right. Exploring new thoughts and seeking help are also parts of our corporate initiatives. We strive to stay honest and we encourage feedback from other people because it is our aim to create and leave a lasting legacy for the future.
Working as one team and listening to everyone – it is our belief that by being united, we have a better chance of achieving more. We also believe that by working together with the entire industry, we will be able to gain greater success. Personal success is only second to our team and we are committed to build it to its full capacity.
Finding and following a better route – it is our understanding the the industry should grab the chance to be more innovative and radical. This is going to put more emphasis on highly skilled human resources, and taking up fresh and better approach initiative to construction and engineering. Omega embraces this challenge by striving constantly to provide solutions to the difficulties by inventing smarter engineering innovations. This is our tool in making sure that we, as an organisation, is capable of being aggressive in the highly competitive engineering industry.
Delivering our promises and aiming to exceed expectations – we know that we can deliver our promises because we do not just work together, but we also trust one another. It is a fact that our work environment is very hazardous and thus we aim to work excellently by being highly systematic and disciplined in all our operations. We have our own set or rules and standards, and we live by them religiously. We never cease to learn and improve as we want to satisfy our clients only with the most positive results – we fix anything that is not right.
Collaborating with our partners and clients – we preserve and maintain our relationships with our clients by developing and providing them with effective engineering solutions that offer value in safety, environmental impact, quality and price. We also value our relationships with our suppliers and contractors because we intend to promote innovation and surface coating methods that can provide continuous improvement for the entire coatings industry.
Get in contact to reserve a confidential site assessment with one of our experts for your commercial Texas-based location.