Are you going to be starting a new home renovation project soon? Chances are you'll encounter and will have to work with drywall if you're dealing with the interior walls of your home.
A lot of people in the United States work with drywall on a daily basis as this industry subset is nested underneath parent industries that include general contracting, painting, HVAC, and many more. The drywall industry is so large in fact, that it employs over 310,000 people living in the United States alone.
Whether you're a curious, veteran general contractor or you're unacquainted with the industry of drywall or sheetrock wall installation, it's important to know what the differences are between sheetrock vs drywall.
Comparing these two common construction materials is like comparing Charmin Ultra Soft toilet paper and generic, store brand toilet paper; respectively. Despite this comparison, it often seems that the terms sheetrock and drywall are often used interminably as if there's no difference between the two.
Those who use these terms interchangeably couldn't more wrong, considering the fact that sheetrock is, in fact, a brand name whereas drywall is a general term used to describe wallboard that is affixed to wooden uprights that are lodged between the exterior and the interior of a home, with insulation commonly found in between.
In other words, all sheetrock is drywall, but not all drywall is sheetrock.
Before you get a detailed comparison of the similarities and differences commonly found in sheetrock and drywall, it's important to first mention that this article isn't a cheesy attempt at an advertisement for either sheetrock or other drywall brands. Instead, you can expect an informative and objective, unbiased comparison between the two terms.
Here are the main differences you can expect when you're ready to purchase either sheetrock or drywall.



What is drywall?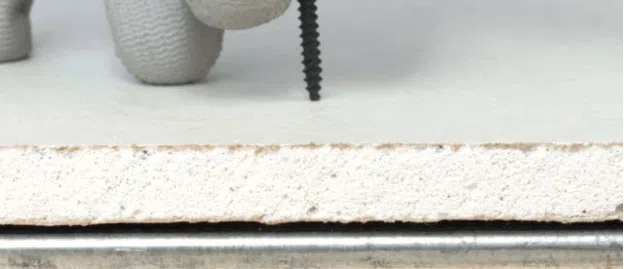 Drywall (also includes sheetrock) is used to build interior walls in most standard, modern homes today. Drywall, also commonly referred to as plasterboard or wallboard is a multi-layered panel that is made of calcium sulfate dihydrate (gypsum), and includes other additives that act as reinforces.
Drywall comes in a variety of shapes, sizes, and types, and can be used to wall an entire home by a few experienced drywall within just a few days. Drywall can also be installed by do-it-yourself and amateur carpenters.
Drywall thickness usually comes in a standard format that includes ¼ inch, ½ inch, and ⅝ inch thick. For most building projects, home builders can expect to use drywall sheets that are 4' x 8' and weigh about 50 pounds.
There are different types of drywall sheets that are used for different applications or areas of the house. For example, moisture-resistant drywall is perfect for the bathroom to help avoid the buildup of mold or mildew whereas fire-resistant drywall is perfect for the kitchen where walls maybe next to open flames.
What is Sheetrock?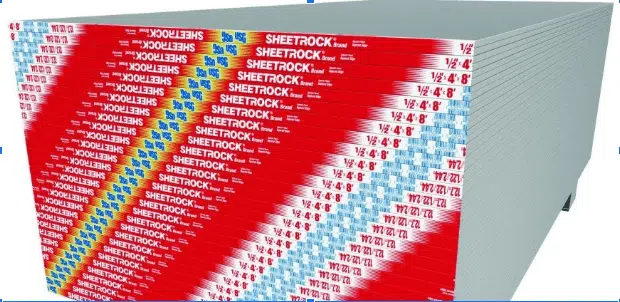 Sheetrock is a brand name for drywall and this brand includes a variety of different types of drywall that come in different thicknesses and sizes. One of the great things about sheetrock drywall is the fact that it undergoes industry-leading quality control testing, unlike generic drywall brands that may fall short of such important practices.
Is sheetrock better than generic drywall?
"All drywall is the same", you may be thinking to yourself. The reality is that if you truly think that, you couldn't be more wrong. It's too easy a mistake to think that considering most drywall is indistinguishable from one another, and looks the same to the naked eye.
If you take the time to dig a little deeper, however, you'll find that drywall, particularly name brands and their generic counterparts are a world apart from each other in terms of quality, price, and longevity.
After hurricane Katrina hit the southern regions of the United States in 2005, homeowners began scrambling to rebuild their homes. The sheer amount of homeowners who needed to rebuild the flooded interiors of their homes led to a national shortage of drywall supply.
Because of this, many homeowners resorted to importing generic drywall from China and little do you know, in 2008, they began finding out that the drywall they had installed in their homes was actually comprised of toxic materials.
Families began to suspect something was up after they began experiencing bad health symptoms that led to a variety of illnesses. When a family member had a cold, the cold was made much worse by the fact that the generic drywall had sulfur dioxide which turned everything that was metal in the house black, especially electronics that also began to fail.
During the hot summer Florida months, the interior walls would heat up, which released the sulfur dioxide into the home's atmosphere causing sinus issues, headaches, and even asthma attacks.
After finding this out, homeowners started to file lawsuits against a wide range of Chinese drywall manufacturers and suppliers that totaled well over $248 million. After over a decade of litigation, they have finally begun seeing the light at the end of a very dark tunnel.
A total of 10 Chinese companies, including Knauf Plasterboard Tianjin were identified as being a major source of the contamination of defective and toxic drywall supply.
It's safe to say that if the homeowners went with brand name drywall suppliers such as sheet-rock that is compliant with standardized safety regulations, they wouldn't have had to worry about contracting troublesome illnesses that may impact their lives even after they replace the generic drywall.
Quick recap
While you might save a little extra money by going with generic drywall brands, the fact of the matter is that you can't really put a price on your family's safety and well being. By opting to install sheetrock over other generic drywall brands, you get the benefit of knowing that your home will be free of toxic pollutants that may be hazardous to your health, and you may get the added benefit of increasing the appraisal value of your home in the long run.
If you are interested in learning more about sheetrock and drywall. Try asking a professional drywall and sheetrock contractor.