Your workplace is not only a place to get the job done. It speaks for your company and the values you hold. It's a chance to show visitors that you take pride in your business and the work that goes on within your walls.
It's also an opportunity to boost morale. Taking the time to create a stunning space can greatly influence the moods and attitudes of your employees. Without even realizing it, you as a leader will get a surge of happiness from a well-designed space.
Being thoughtful about the design of your workplace can also impact productivity. Everything from the flow of the area to the accessibility of technology can make the workday more efficient. Taking a hard look at areas used for breaks and downtime can allow your employees to fully recharge and get back to work revitalized.
Here are some great workplace design ideas you and your employees are sure to love. From enhancing the aesthetics to making your space more functional, they will be a hit with the whole staff. And you'll all benefit from your new and improved workplace.
Personalized Artwork Adds a Lot To The Workplace Ambiance
A personalized wall or mural can make a big statement and bring more personality to your workplace. It can also provide you with a unique branding opportunity. When you hire an experienced team of commercial painters, they can take your walls to a whole new level. They will have the skills and experience to create the paint job of your dreams.
At Omega, we have worked with many different clients and have helped them bring their individual visions to life. Your workplace is a canvas that can be used to express what's amazing about your company. It can also be a chance to share your mission with customers and reinforce it with your employees.
A mural is a stunning way to tell a story about the history of your company. A timeline showing momentous occasions in your past can be an impressive feature. It gives you an artistic and fun way to tell the story of how your company has grown through time. Both beautiful and informative, it is a unique addition to a hallway or wide lobby wall.
You've likely spent a lot of time and money on your branding efforts. Your logo is the perfect symbol to integrate into your design. A giant image of your company's name and logo can look awesome on towering entryway walls. You can also opt for monochromatic colors and a smaller scale repeated design using your logo for a more subtle way to reinforce your branding.
Your mission statement can tell visitors a lot about your company. Using key phrases or words from it can create a cool and unique look. These can be combined for a graphic that tells a story and adds a ton of style to your space. Called wordles, these word puzzles are a modern addition to any workplace design.
Unique Flooring Can Light Up a Room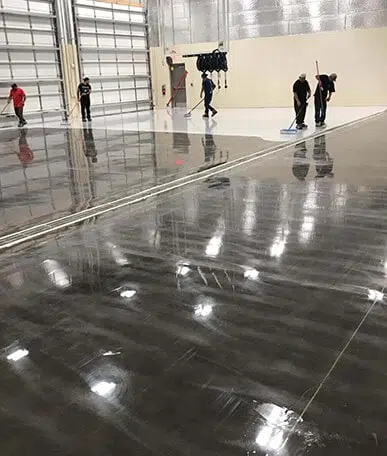 The flooring you choose should be as unique as your workplace. Sure, there are some practical thoughts to consider when selecting flooring for the usage of your space. But that doesn't mean that it can't look great as well.
Your industrial space needs to have durable and safe flooring options. Epoxy flooring can create a stunning surface that can stand up to the wear and tear of high traffic. This long-lasting sealing technique will create a polished look that upgrades a space. At Omega, we have brought many floors back to life for our happy customers using budget-friendly epoxy coatings.
Maybe you are looking for a softer feel in your office space. Low pile carpeting is the ideal combination of softness and safety. Available in a variety of colors, styles, and even carpet tiles, you can create an endless variety of flooring looks. Opt for a bold statement color or even design a pattern for a unique design. The bonus, carpet reduces sound and can be super eco-friendly.
Your retail space can benefit from durable tile flooring. Make it your own by using a fun color or unique installation pattern. Not only will it be low-maintenance and easy to clean, but it will impress both employees and customers.
Designated Spaces So People Can Be Productive
Show your employees that you appreciate them by putting an effort into designating spaces around the office. Making these non-working spaces feel special gives everyone the chance to recharge. Plus, it will only make your workplace more stylish.
The break room is often neglected during the design process, leaving it both looking and feeling bland. Take some time and invest in the design of this space for a big impact. You and your employees will enjoy much-needed downtime to recharge throughout the workday.
Have your breakroom painted a bright and cheery color that's different from the rest of the office space. Find some fun quotes to paint on the wall for a laid-back vibe. You can even ask employees for their input on how they would like the break room to look and come up with the design together.
Bathrooms are another space that often gets put on the back burner when designing the workplace. However, they are also another chance to add style to non-work areas. Plus, customers may also use them. Being thoughtful about your bathroom decoration is another chance to impress them.
Make an effort to upgrade your bathroom walls. A beautiful tile can make the space feel polished and high-end. Restroom walls are also an ideal place to try out that fun wallpaper installation or graphic paint design. Upgrade light and faucet fixtures to pull the new look together.
A Welcoming Entrance Space Makes People Feel Like They Want to be At Work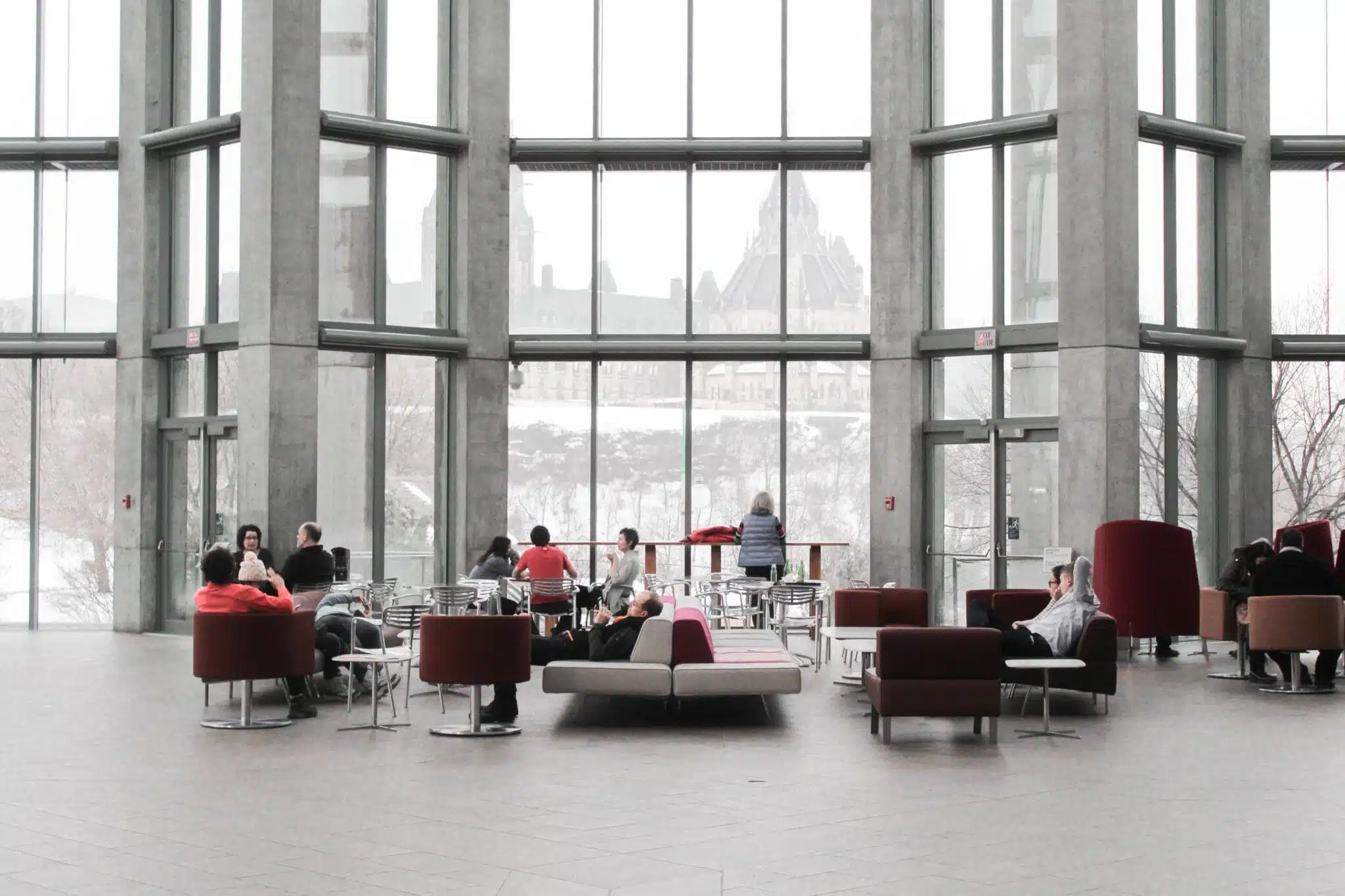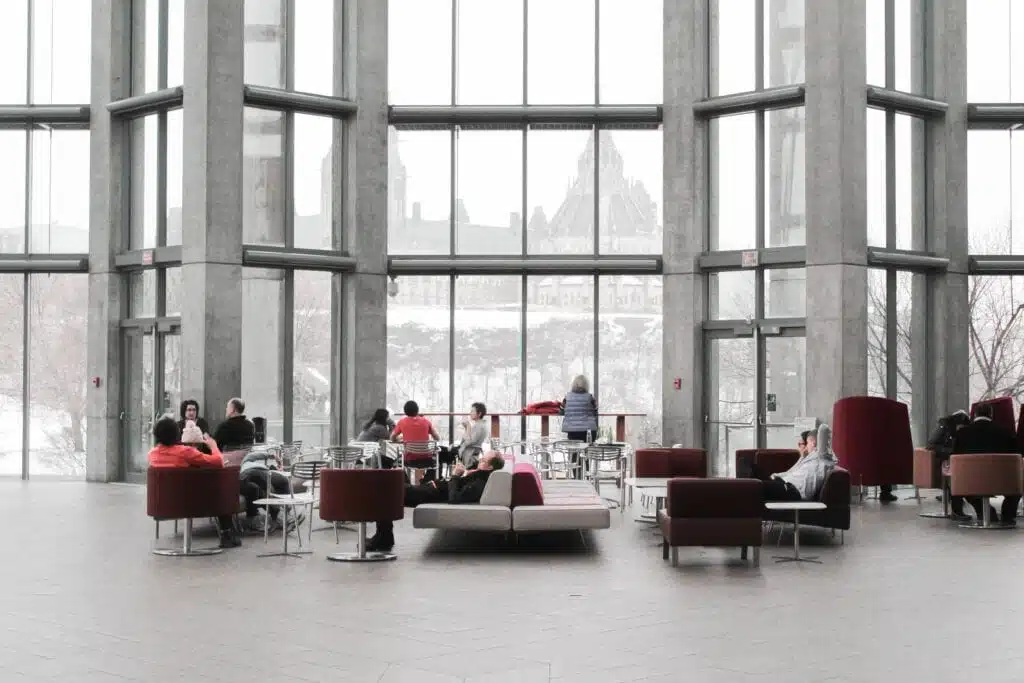 Your entrance space is likely the first impression visitors see when they walk into your doors. Take your lobby to the next level by being thoughtful about its design. By creating a welcoming entrance, you'll have a space that both employees and customers can enjoy.
Think about adding a unique lighting fixture to your lobby. Taking a break from the standard fluorescent lighting is a welcome change. A fun fixture will make a big impact and brighten the space. Plus, using fun LED lighting is super eco-friendly and long-lasting.
Flexible seating will make your lobby feel custom and welcoming. Benches and couches can give visitors a chance to wait in comfort. Add a table and coffee machine for a cozy feel.
Being thoughtful about your lobby design allows you to change it up as well. Create opportunities like shelving to decorate for the holidays and seasonal occasions. Install windows that can be opened when the weather is nice. Designing your lobby for flexibility means you can switch it up from time to time and keep things fresh.
Install a functional yet beautiful lobby desk. Plenty of storage and accessibility ensures that your employees can easily greet guests and meet their needs. Look for options that add style to the overall look and feel of your lobby. Using a fun color or unique shape keeps your lobby from feeling sterile.
Thoughtful Workspaces Can Really Make Your Workplace A Great Place To Work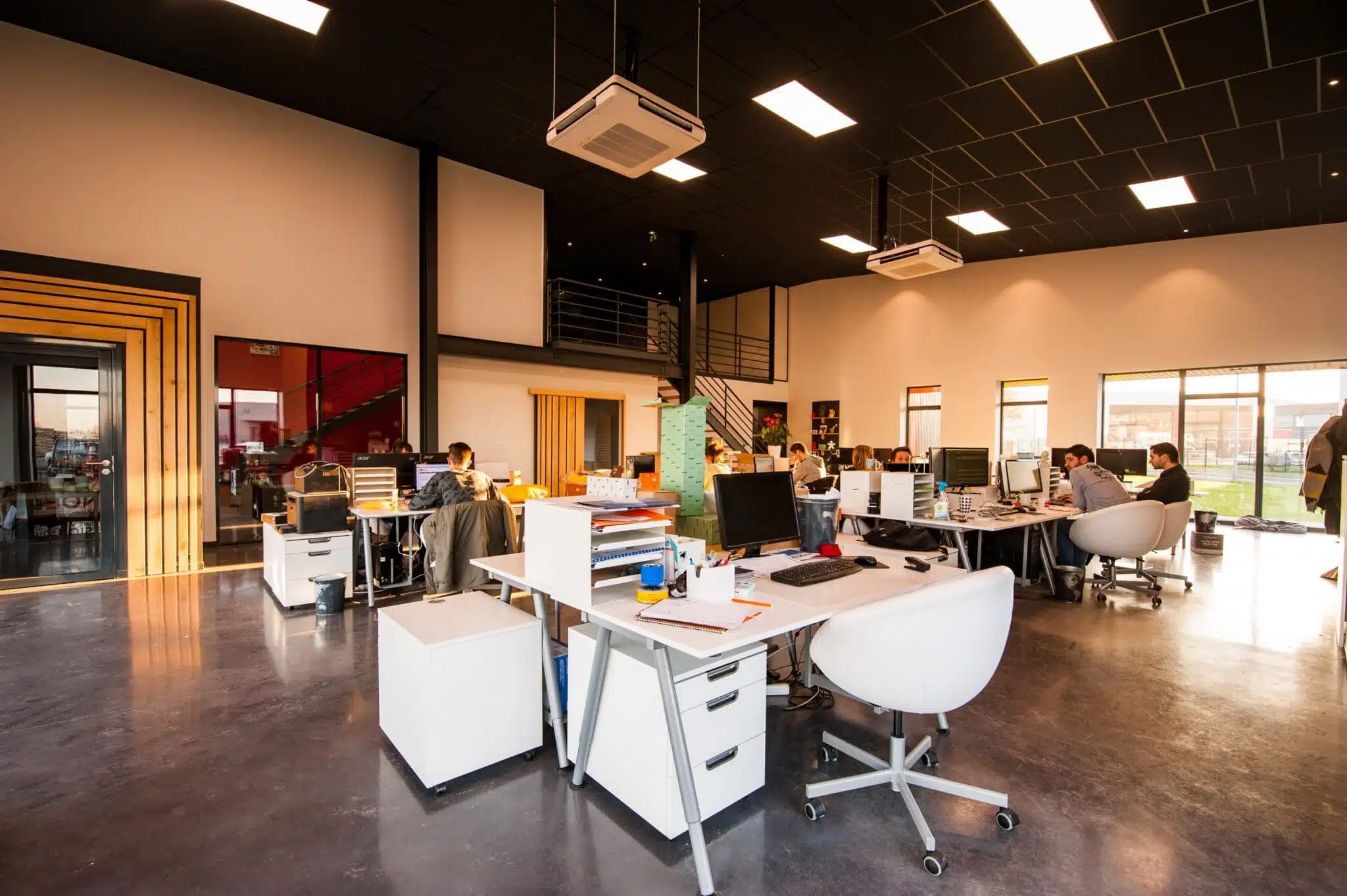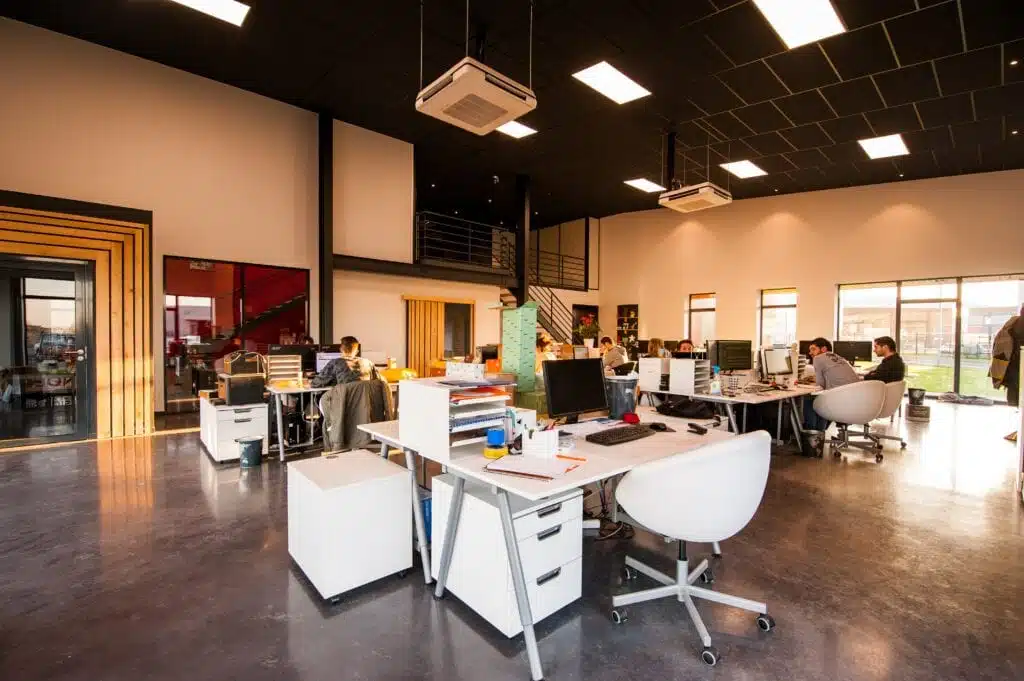 You and your employees likely spend a ton of time at work. Designing your workspaces in a thoughtful way will be well worth it. Each employee and workplace is different, so carefully consider your individual needs.
Maybe your office would benefit from standing desks or counters. Many employees prefer to stand throughout the workday. It's also a great health booster. These options give them the flexibility to do so. Add stools so they can take breaks as needed.
Think about the ways that teams function when creating workspaces. Maybe smaller conference rooms scattered around the building would make more sense. Perhaps a large meeting space would be ideal if you frequently host out of town guests. Create comfortable and neat conference rooms to hold distraction-free meetings.
Industrial buildings don't have to be filled with sterile workspaces. Keep safety in mind and get creative when designing the areas where employees work. Bright lighting, vividly colored machinery, and rubber flooring are elements that can elevate your warehouse space from drab to fab.
Omega has had the pleasure of helping both offices and industrial spaces create workspaces that employees love. Whether it's by bringing new life to warehouse surfaces with industrial painting services or refurbishing cubicle areas, we love giving workspaces the facelift they deserve. Plus, we have seen firsthand the happiness employees feel about their new space.
Embrace Technology
In many offices, technology is a big part of the workplace. Even in a retail or industrial setting, you can use technology to bring new life to your space. The trick is embracing its presence and making it both appealing and functional.
Your employees will appreciate being able to charge their phones and computers conveniently. Add charging stations to your common areas and workspaces. You can even install USB enabled outlets to make charging simpler.
Technology can also add a ton of beauty to a space while also providing information. That sleek touchscreen kiosk can make your retail spot or eatery look futuristic and fresh. It can also give customers a convenient way to check inventory and place orders.
Your commercial building can see a big facelift by adding bright monitors throughout common areas and entrances. These can be used from everything to displaying current events to things like employee of the month recognitions. What's great about LED displays is that they are easily updated and don't require a footprint. They can be seamlessly integrated into your design for a clean look.
Go Green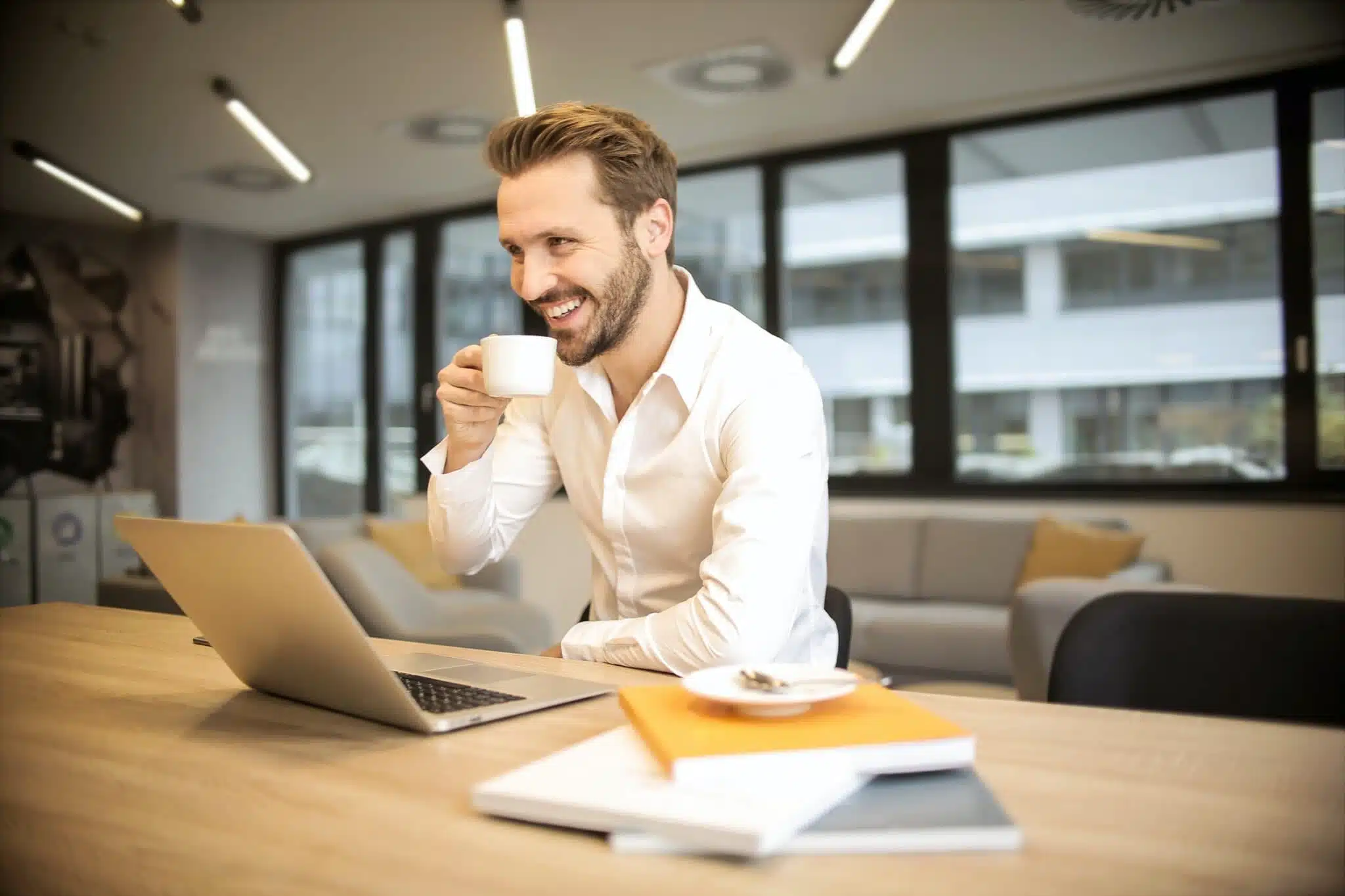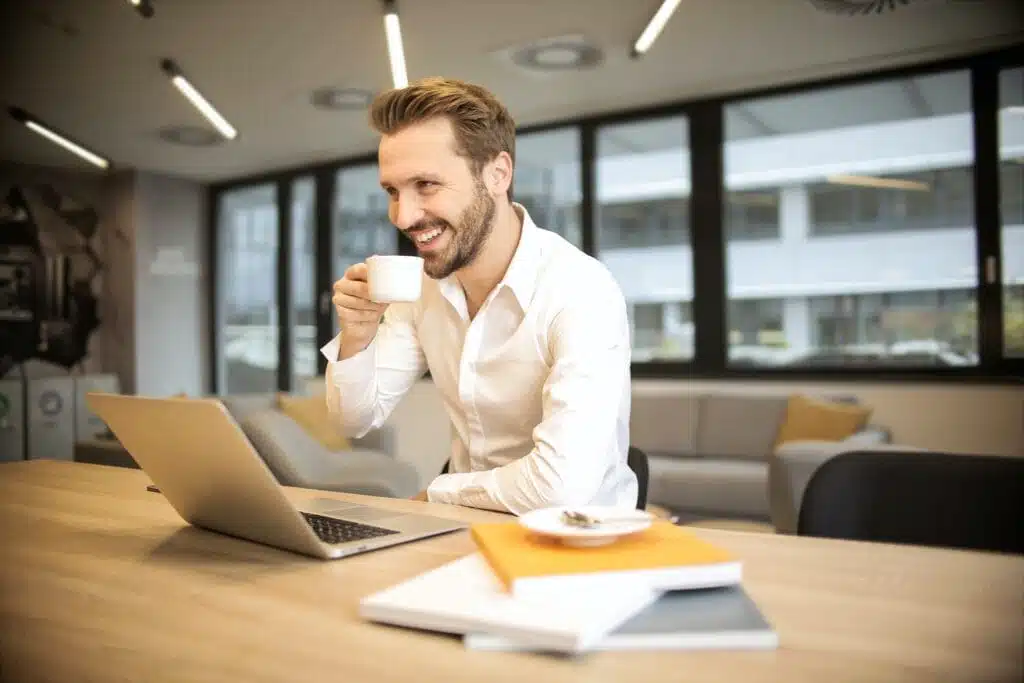 Think about ways you can design your workplace that will make both your employees and the environment happy. A lot of running a business is reducing your carbon footprint. Fortunately, some thoughtful design ideas can make that possible.
Add a skylight or large windows to bring in natural light. This has the potential to slash your electric bill with reduced lighting costs. Plus, your employees will get a boost from a little extra sunlight.
Forget the vending machine, add water bottle stations throughout your workplace. This will give employees the chance to conveniently refill reusable bottles. The same goes for coffee cups. Adding a coffee bar or two will keep your employees caffeinated without the extra trash.
Install a healthy snack station for a much-appreciated employee perk. Fill it a few times a week with treats from a local farmer or eatery. Maybe employees will love starting the week fresh with organic produce from a nearby farm. Add a toaster station and bagels from the local bakery to finish the week off right.
Don't Forget the Exterior
The exterior of your workplace is the first thing your employees see at the start of their shift. It's also the last image in their minds as they leave each day. A top-notch exterior can give them good feelings about their place of work.
Make sure your parking lot is neat, well kept, and clearly marked. Crisp clean lines not only make for a safer parking lot but they look great. Your Omega parking lot striping crew will be happy to make your parking lot look awesome for your employees. They will be happy to work with you on a parking lot design that makes sense for your unique needs.
Add a little exterior design to boost curb appeal. Maybe you design a beautiful outdoor space to use during break times. A concrete patio, picnic tables, and landscape design can give your employees a stunning place to recharge throughout the day.
Think about outdoor elements that make sense for the design of your building. A shade structure can provide some relief from the sun on a hot day. A covered breezeway can make it more comfortable for employees to get to their cars on a rainy day. Maybe a courtyard or installing concrete walking paths can provide the perfect setting for outdoor meetings.
Your Stunning and Efficient Workplace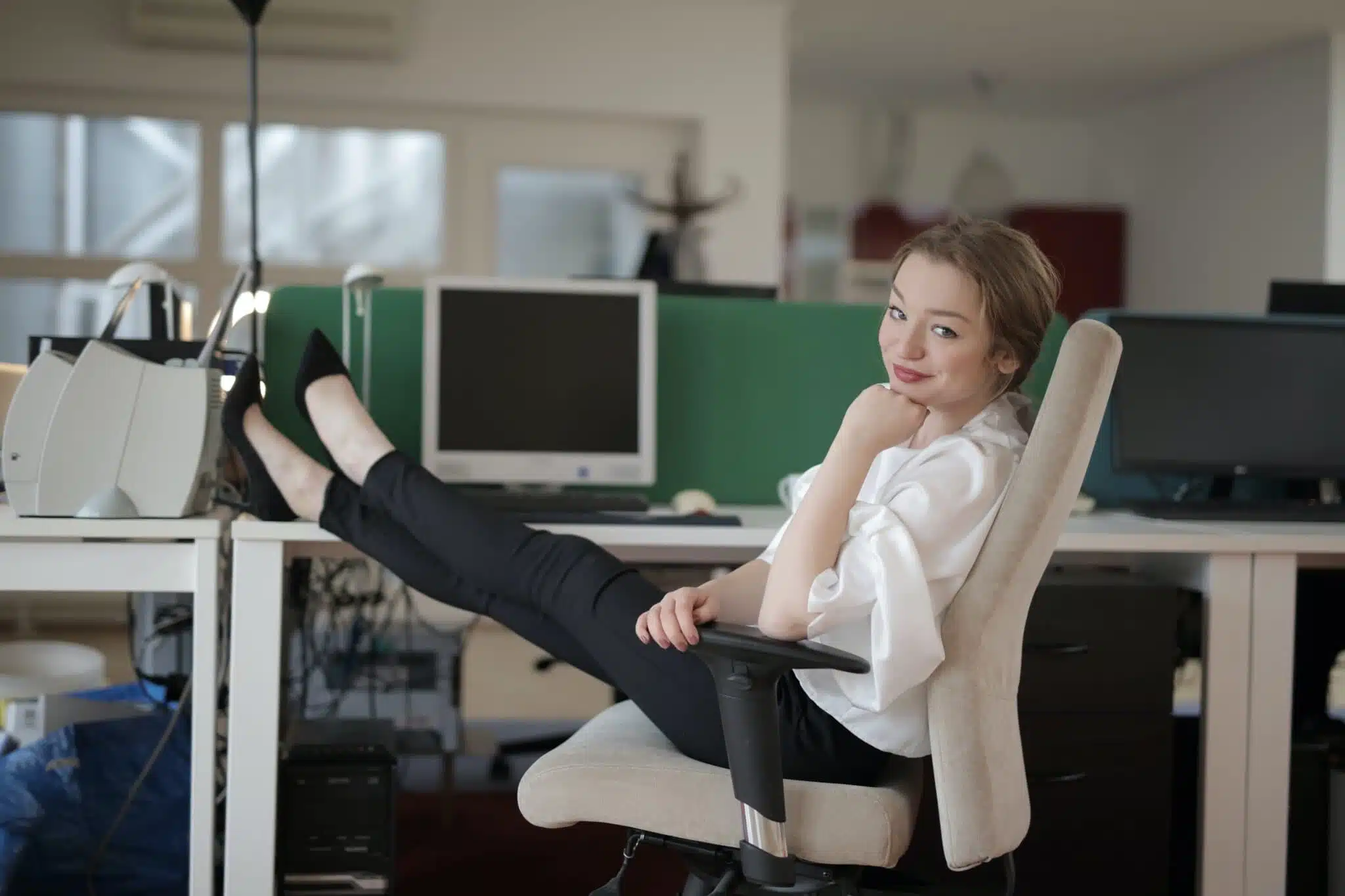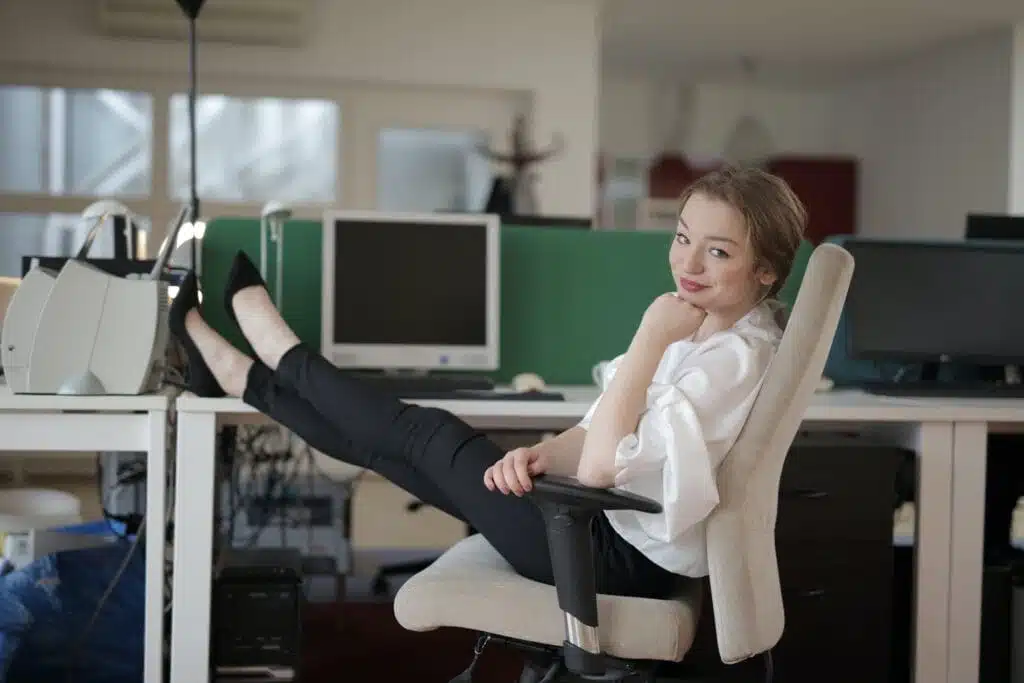 As a leader, you have the unique opportunity to benefit and influence your employees. Sure, a lot of this is done by traditional management tools. But putting some thoughtful effort into the design of your workplace shouldn't be overlooked.
Think about your employees and the features that they would love. Add function and style to your workplace to wow both staff and visitors. Create a vibe that is unique to you and your business.
By adding a few awesome design elements to your space, you'll create a workplace that employees love arriving to. They will thrive in an updated and stunning environment. Plus, you'll also love showing off your new and improved workplace.
Give us a call today so we can help you with your next workplace design project. Omega has contractors experienced in all areas of commercial construction. We would love to help you create the workspace of you and your employees' dreams.