Staffed by experienced, hard-working professionals, we at Omega Industries take our work as commercial painters seriously. We know commercial properties are a significant investment for our customers and we're committed to helping properties look crisp and freshly painted.
We'll help you keep the exterior of your business looking sharp with a high-quality primer and premium paint, for durable results. Our skilled workmanship will not only enhance your property's curb appeal, but it will protect the exterior of your property from the elements and increase its value.
This makes a good first impression with the public and will reinforce your brand image. You don't want to be remembered for your peeling or unsightly walls. Not only are we experts at the exterior but we'll also help paint your interior surfaces too, for a fresh new look and beautiful results.
We firmly believe we're the best, most skilled commercial painting company you'll find in the in Dallas region – perhaps even in all of Texas and surrounding areas. Sure, that may be a bit of a bold statement. But we'll tell you the reasons why Omega Industries clearly stands out as the best among commercial and industrial painters. And then we'd like to show you firsthand.
We're not a 5/5 reviewed business for no reason. Read on and discover some of the many reasons Omega Industries is the best commercial painter in Dallas.
We Have Deep Commercial Painting Experience
Our commercial painting business is built on a platform of deep technical knowledge, experience, and dependability. We take pride in taking the time to thoroughly understand the various requirements of each commercial painting job.
We get to know the customers we serve and have grown to become masters of our trade. We paint it (or repaint it!) right the very first time. By holding our customer's opinion of us to the utmost importance we have established ourselves as the most experienced and professional choice in the Dallas, Texas area.
Newer companies to the commercial and industrial painter space often don't have deep enough experience or training to serve commercial properties. Whether you need painting for your office building, hospital, school, hotel, retail shop, shopping center, manufacturing plant, or another type of commercial property, we're qualified and ready to help.
Many times, we've seen (or heard stories of) less experienced, residential painters try to break into commercial market painting jobs. Firms crossing over from residential to commercial painting, without recognizing the inherent scope differences, cause inexperienced painters to soon become "in over their heads."
Often, this lack of preparation and first-hand understanding of commercial jobs becomes daunting for less experienced firms, causing them to be unable to properly define the job scope, or deliver the project on the estimated and proposed budget.
We're familiar with the ins and outs of commercial paint projects because we've long put our professional focus there. And we're proud of that. We think you will appreciate our knowledge and experience as well.
We Have Very Experienced Staff
The best organizations in any industry are known to employ the best workers. Our employees are not only experienced, but they're also well trained and service-oriented professionals.
We first conduct background checks on potential employees before hiring. Once onboard, we continually mentor our staff, passing along our professional knowledge to further develop their talents and proficiency. You can trust our team of professionals to deliver top-quality workmanship without shortcuts. On every job.
Quality work is an integral part of our corporate work ethic and something we've built our reputation on. We believe that's why our business receives so many word-of-mouth referrals – and repeat business years down the road from past customers – are so abundant.
We Do Commercial Painting with an Efficient Process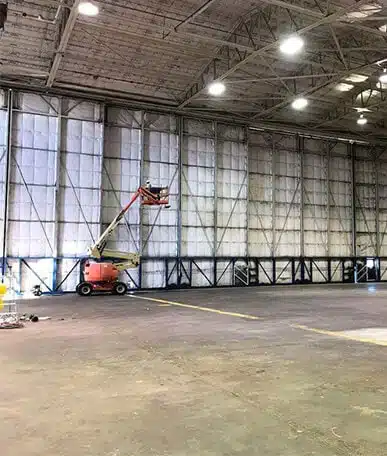 Omega Industries tackles interior and exterior commercial painting … and we know the commercial and industrial sector works differently for paint contractors than the residential sector. Commercial painting is what we do, and we do it well.
We know work complexity varies considerably between the residential and commercial job landscape. While there are some similarities, of course, there's a lot to be said for knowing what makes residential house painting and the commercial painting sector uniquely different. It's is another thing that sets our Dallas commercial painting company apart.
Our business focus of serving commercial and industrial painting clients requires considerably more expertise than just having brushes, ladders, and people on hand to show up and paint. We follow a detailed process to serve each client, whether it's a relatively small commercial job or a huge and complex project.
We've got deep experience with all types of interior and exterior commercial projects. We're prepared and ready to visit your site and provide a free estimate. As master tradesmen who know the craft of commercial and industrial painting, we've become masters of the Dallas painting trade with our knowledge of the unique requirements in the commercial property sector.
The bottom line is: Professional-looking surfaces need professional painters. Count on us to know the ins and outs of varied commercial painting requirements and project types. We'll answer any questions you may have then provide the detailed estimates (with no hidden fees!) you need to factor in your vendor selection.
We Don't Just Paint
Did you know that commercial painters do more than just painting? As the experts in our field making your space look it's very best we also have teamed up with some excellent drywall contractors.
Drywall in the Dallas area can be tricky, due to the weather's heat and humidity. But because we are the best, we work with the best to help you get the smooth walls your business deserves. After the drywall is patched or replaced our team will come in to help with the finishing touches to get the business looking its best.
The major benefit of having us coordinate all the work you need for your walls is a seamless timeline. Rather than waiting for your drywall to be installed and cured in order to book your painters, when we take care of the details we will move in to paint as soon as possible. Helping you get back to business sooner is just one way we distinguish ourselves from the competition.
A Track Record of Superior Customer Service to Our Customers
Our hard-working crew will show up on time and ready to work on your project. They know they're the face of our Dallas painting company and will treat you professionally and respectfully. Our entire team values our relationships with customers and will treat them as if they're family, as they'd want to be treated in return.
Detailed surface cleaning is an essential part of the pre-paint preparation process. We will thoroughly prepare the surface and work area to ensure nothing becomes damaged during the paint application segment of your project. We use spray, roller, and handwork techniques, depending on the surface and specific area.
From start to finish, we will work quickly and efficiently, without sacrificing overall quality. Plus, we provide a warranty on our work.
Our crew and team of people are dedicated to professionalism and it shows. We continually seek to exceed customer expectations – it's yet another thing that sets us apart.
We Minimize Commercial Painting Disruptions
For instance, business interruption can be a real concern for retail businesses. Tenant requirements in retail shops need to consider individual tenants so we can work around their schedules so they can get back to business. Sometimes outside business hours. We work with our clients and are conscientious of minimizing tenant inconvenience.
We know many of our commercial clients have tenants to consider, and what that means to properly schedule a commercial paint job. We're accustomed to hard work while minimizing inconvenience in your parking lot, hallways, entrance ways, tenant shops, and similar spaces.
We'll work collaboratively to find out which hours or days work best for you and your tenants so the inevitable disruptions from the painting process are minimized. We know your tenants are concerned with losing money during the painting process and might have concerns about their front shop window being taped up or blocked for multiple-day, for instance.
We'll hear those concerns, and help alleviate them. We are on your side! Our team of professionals will maintain a clean, mess-free workspace. We'll make a plan before we begin any prep work and strive to flexibly schedule around any identified tenant conflicts or business-loss concerns whenever possible.
Sometimes before- or after-hours painting works best for particular clients and we're open to flexible shift schedules. Creatively scheduling smaller segments of tenant groups on the same day is one way we break up larger commercial jobs to minimize overall disruptions.
Coordinating schedule days incrementally and not disrupting the entire office park or shopping center, for instance, is the right way to tackle these large jobs. Our hope is to get your space looking refreshed and professional with as minimal disruptions as possible.
Other times, we've focused our work and equipment on the back and sides of buildings during regular business hours then tackle the front before or after hours. And we've had experience with commercial properties giving us defined hours we must work within. We've done that too.
We have received a significant amount of word-of-mouth business – in fact, the majority of our clients have come to us via word-of-mouth referrals. We're rightfully proud of that fact because it speaks volumes about how our past commercial clients feel about doing business with us.
We know the commercial painting business and have become recognized as masters at our trade. We're exceptional partners with our customers and excel at our commercial property work. Plus, we always leave the work area neat and tidy to keep disruptions to a minimum.
Fully Stocked with Necessary Commercial Painting Equipment
Everything's bigger in Texas, right? Well, our commitment to top-quality equipment certainly is!
We know that if we want to be the best commercial painter, we need to have the best tools and equipment in our gear arsenal. Not only will our crew of painting pros be ready to tackle your commercial job, but our equipment will also be too. Owning well-maintained, professional equipment is another of our core values … and another reason we're the best.
Our commitment to quality is exemplified by the professional-quality equipment we own to support our crew and help us do our best work. Our equipment has been a substantial investment in our business – and yet we don't skimp or cut corners in that area either.
Our equipment supports our team and it's important to our business success. That's why we make certain each truck is fully stocked with all our necessary tools of the trade, including ladders, drop cloths, hand tools, respirators, safety supplies, and more to properly handle a wide array of commercial projects.
We're also prepared with spray rigs, man lifts, water-pressure cleaners, and more to bring to the worksite and get our jobs done. We regularly maintain our equipment and ensure each truck is at-the-ready for different types of commercial jobs and is appropriately stocked.
We Know the Right Paint for the Surface
Whether you have a small, mid-sized, or extra-large business, be assured: We can paint it. As professional painters with proven experience, we know the right paint and preparation techniques for the material you want to be painted for a premium final finish.
We only use quality paints, primers, and supplies at all times and on every commercial project. We can recommend high-durability coatings for heavily trafficked areas in commercial buildings, on brick or stucco, wood or cement, galvanized metal, floors, pipes, ceilings, or any other target areas on your property.
If you need a rust-inhibitive coating or an exterior paint that works on tough surfaces like structural steel or foundation walls, be assured our knowledgeable crew can apply them. We also bring along the right equipment to protect your surfaces, such as drop cloths, and we know how to prepare all kinds of surfaces to guard against unintended overspray or spill.
Safety Without Shortcuts
Don't take a gamble with your choice of paint contractors. Property managers we've worked with have come to know us and have seen our quality work in action. We strive to keep the workspace safe by limiting messes, abandoned equipment that's not in use, or any overspray.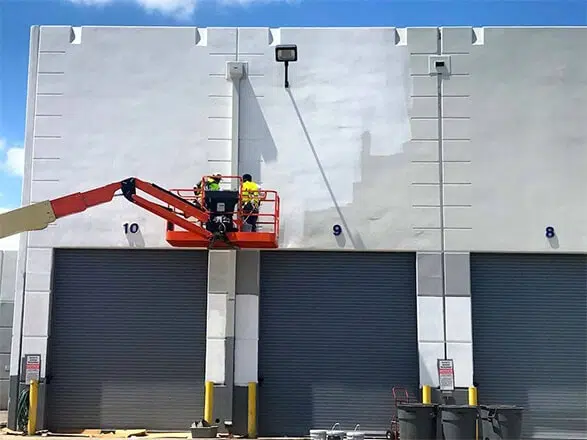 Our established Dallas commercial painting company knows the high-quality safety standards required by commercial businesses and we take them seriously. We're licensed, insured, and bonded. We want to keep our own employees safe and working, so they're well stocked with all necessary personal protective equipment (PPE).
We also work to keep your employees and visitors who might come near our workspaces out of harm's way. We continually work to ensure both our team and your tenants are protected by following all necessary precautions for maintaining a safe work environment while our work is in process.
And we continue safety protocols up until it's time to pack up our gear and leave your property at the job's end, leaving nothing behind but professionally refreshed surfaces, and satisfied customers.
No matter how well built and cared for your property is, there is always the possibility that lead paint or asbestos was used in the materials. If you determine that these toxic materials need to be removed you don't want to hire just anyone to complete the task.
It turns out your property needs, Omega Industries can help you get your space back in working order. Our diligence to follow all recommended safety procedures and safe disposal of the materials removed puts our abatement experts above the rest.
We make sure our crew is instructed annually to account for any changes in code or procedure in accordance with the local and national laws. These refresher courses ensure that our crew is prepared to safely tackle your abatement and help your building's needs.
Your safety, the safety of our crews and the safety of the community at large are not to be underestimated. We assure you that we will take the utmost care as we not only remove the hazardous waste from your building but also from the area to be safely disposed of.
Our team is also experienced and prepared in notifying the agencies as required by law. Our commitment to customer service is not limited to our quality paint jobs. Once you hire us, you will be in the best hands in Dallas.
Prepared for Capital and Insurance Requirements
Large commercial clients might request net 30, net 60 or net 90 invoicing terms, something that's standard in the world of business. This invoicing method means the business (buyer) has 30, 60, or 90 days to pay the commercial painter (seller) in full following the job's dispatched or completion date.
Bottom line: Net 30 payment terms means the painter isn't getting money upfront or being paid immediately upon job completion. Many of our competitors in the commercial market space – or residential-to-commercial crossover painters – simply can't work without getting paid right away.
Some might even be surprised or wholly unprepared for the "net" type of payment term. We, on the other hand, have experience with "Net 30" payment requests in our commercial work and have the resources to accommodate this.
Many times, commercial painting upstarts just don't have the capital required to buy a commercial project's painting supplies out of their own pocket, basically providing short-term credit to their clients. Many smaller or freelance paint contractors expect to be paid immediately, which is typically how client payments work in the residential market.
As we've outlined here, commercial market payments can be a bit different from residential. Since we're positioned in the commercial painting market, we're also prepared to meet associated capital requirements.
What's more, our business fully understands the relevant insurance requirements for our industry, such as Workers' Comp and liability insurance – absolute necessities to successfully bid on commercial jobs. Rest assured, our employees and business are fully insured and covered.
Consistent Communication
Another way we think the best commercial painter in Dallas is because we listen. How else can we proficiently meet our customer's needs unless we first take time to fully understand what it is they want? We want communication to be a two-way, continual process.
Our customers are of chief importance to us and we strive to provide them with the best possible experience throughout each step of the process. We want to de-stress the process for our clients – and make it ultra-easy for them to do business with us. And to come back to us in the future.
We believe transparency is important when creating strong working relationships with our clients. That's why we frequently check-in to get client feedback. Clear client communication is something that's a regular, ongoing part of our day-to-day service model, something we highly regard, and something we take seriously.
You should expect nothing less from your commercial painting contractor. We'll let you know exactly who from our team will be on your property. The project manager for your job will be accessible to you, providing regular schedule and milestone updates as your job progresses, along with a willingness to thoroughly answer any of your questions.
Commercial paint projects can be immense and many have built-in complexities, aside from the scale of the job. We can handle it. We work hard to meet your expectations for a well-run, manageable process for you and your facilities managers.
In Conclusion
Your business is one of your most important assets and it needs to look good. Don't trust your commercial painting project to just anyone. We'd like to show you why you should trust us with your commercial painting job.
Give us a call and let's start by talking about your project. We'll provide a clear and competitive estimate and professional references – so you can discover why we think we're the best Commercial Painting Contractors in Dallas, Tx. Put our deep, Texas-based experience to work for your commercial painting needs.
We're confident that we're the best, most reputable commercial painter in the Lone Star State and we'd sure like to prove it to you.