For business owners with a commercial location, it's important to have a fresh paint job that gives your space a clean and professional look. Painting is painting, right? Actually, not at all. Trust us, you don't want to hire a residential painter with no commercial experience to tackle a whole warehouse.
In this article, we'll highlight exactly what commercial painting is, why it's important to know the scale of work you're looking to have done and the benefits of working with the pros.
Commercial Painting Defined
Having any business space painted is basically commercial painting. Though that is a very narrow definition. There are so many variations in the size and scale that commercial work can fall under. Painting a restaurant is going to be different from painting an industrial building.
In a fancy restaurant, aesthetics are going to be much more important. There will be more colors and textures throughout the space. Whereas a warehouse location will likely have a single color scheme and though it's bigger will be less complicated to paint.
Accurately gauging the scope of work you're looking for will help determine the best painting contractors to choose from. There are a lot out there and you want to make sure you pick the one with the most experience doing the work you are asking for.
What's the difference between commercial and residential painting?
Though it seems as though they are effectively the same thing, a painter that does residential units is not going to have the same expertise regarding the large scope of work most commercial locations require. Painting a house is very different from painting a retail store.
Size of the project
Generally speaking, a commercial painting job is going to be a larger project than painting a home. Tackling a warehouse is going to take a whole lot of manpower, and a boatload of paint. Not to mention quite extensive planning ahead of time.
When working on a residence, it is pretty straight forward. It will require a fraction of the workers and much less paint to finish the job. Of course, there is still planning involved, but you really just have to take the owner's requests and implement them. Homes are overall smaller projects and have a shorter turnaround time.
The one exception would be multiple dwelling units, such as apartment complexes. Technically they are residential, however, due to the size, it would be considered a commercial project. That's where the size and complexity of the project meet the aesthetic needs of a residence.
Scheduling
Scheduling needs are also a big difference between the two. It is much more simple to work on painting a home during typical business hours. Homeowners understand that with painting work there will be contractors in and out of their space for a few days. With business locations, things can get a little tricky.
Commercial painters need to work on a much more flexible schedule with business owners. Painting an entire factory is going to take a while. However, it might not be reasonable to ask that company to stop production while the painters are working on the interior. Forcing a business to stop making money is the last thing a commercial painting contractor wants to do.
In these cases, painting contractors will often work outside of standard business hours to accommodate the business owner's needs and get the project done in a timely fashion. These types of considerations typically aren't necessary with residential painting work. Though there are always exceptions.
Type of paint and equipment required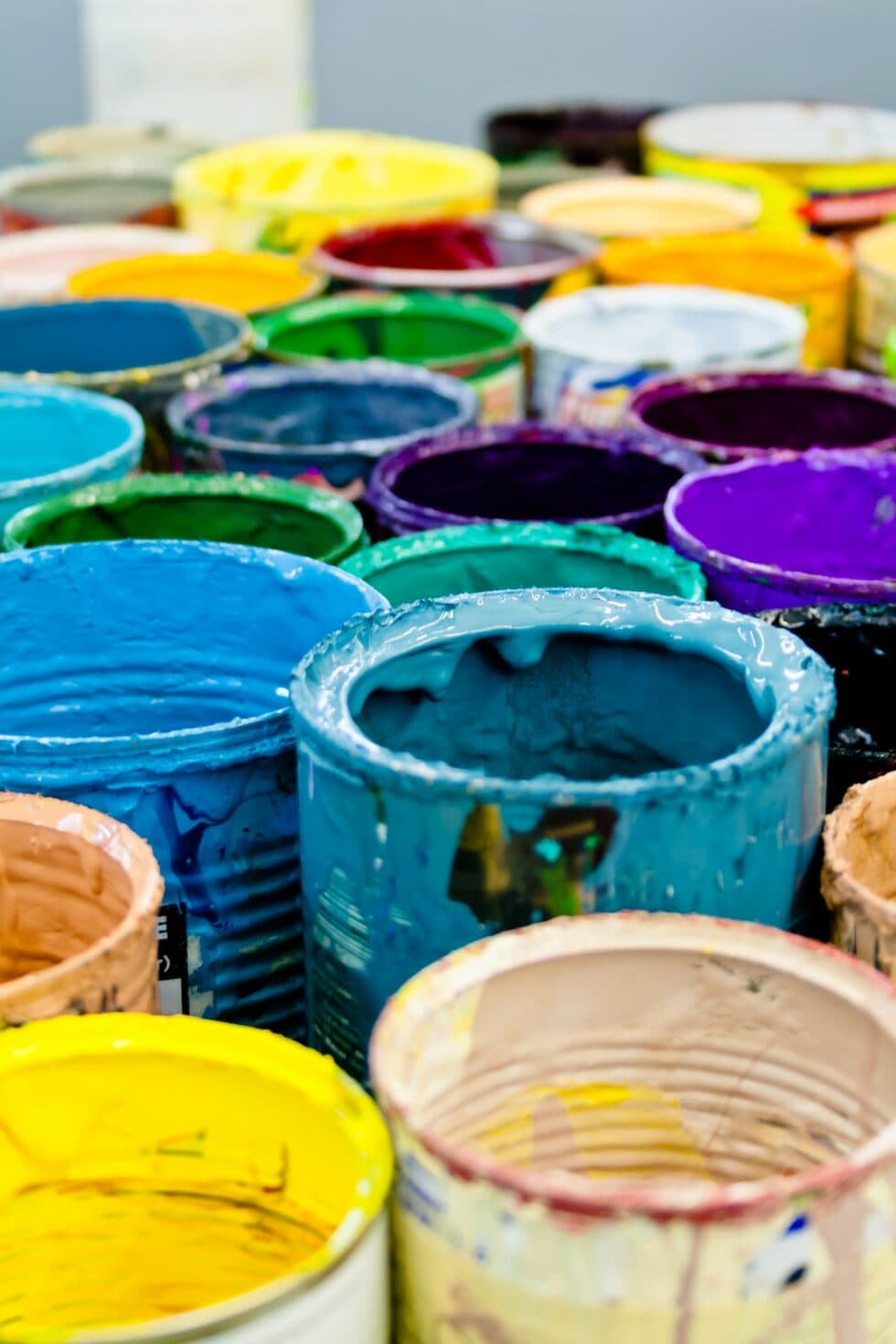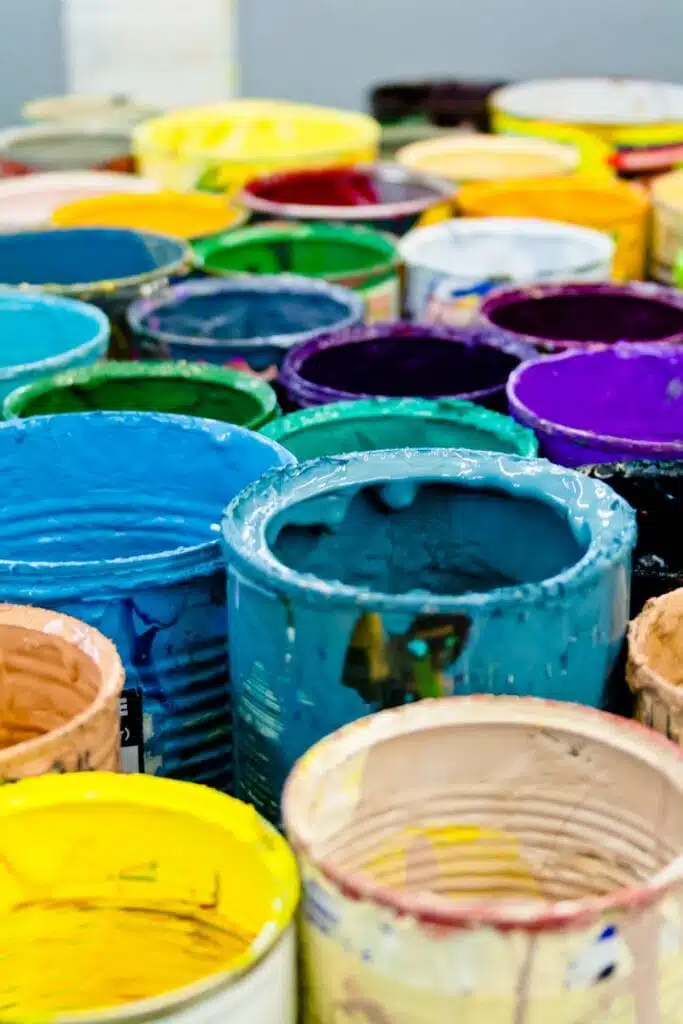 The type of paint and equipment used is also significantly different. Working on a residential project, home painters are going to be more focused on working with variations of paint that match the overall look of the home and the neighborhood. Whereas often in businesses they aren't as concerned about blending in with the places next door, but rather the durability of the paint.
There are an incredibly wide variety of paint options. In residential, the most common are water-based, oil-based, and latex-based. Then there is the sheen of the paint, or whether it is shiny or flat. These are all sufficient options for the most common material in a home, dry-wall.
On the flip side, commercial buildings are made of a whole lot more types of material and the painters need to have an understanding of how to work with all of them. From concrete, wood, reinforced plastic, metal, and marble, it's all on the table. Each material is going to have a unique requirement for making sure paint adheres appropriately.
Most often, a basic semi-gloss latex-based paint is going to be used for commercial locations. Some contractors will use epoxy-based paints for more durability and if they paint needs to be chemical resistant.
That brings us to the equipment needed for commercial versus residential. On a home project, since the space is significantly smaller, there is no need for heavy-duty equipment.
Generally, residential painters use the same type of tools and equipment that any homeowner can purchase themselves if they decided to do the work solo. Things like drop-cloths, step ladders, paint trays, rollers, and paintbrushes. These are all things that you can pick up at the local hardware store.
Commercial contractors, on the other hand, are going to need a lot more hardcore stuff. To paint the entire exterior of a hospital or a school, a paintbrush and a step ladder aren't going to cut it. For those jobs they are going to be using sand-blasters or pressure washers to clean the surface, then scaffolding and paint sprayers.
Additional commercial services offered
Residential contractors are going to do a bang-up job on their specialty. They are going to do a great job on siding, trim, and interior work, but that's about the extent of it. Some residential contractors will offer a couple of additional services, such as minor drywall repair or deck staining.
Though that is all very valuable stuff to master, it won't exactly cut it on massive structures like an office building or a ten-story hotel. Commercial painting contractors on the other hand offer a much broader range of services, simply due to the wide variety of locations they service.
For example, they will provide industrial waterproof coatings, brick waterproofing, metal painting, logo stenciling, special surface prep, and sand-blasting, just to name a few.
Benefits of Commercial Painting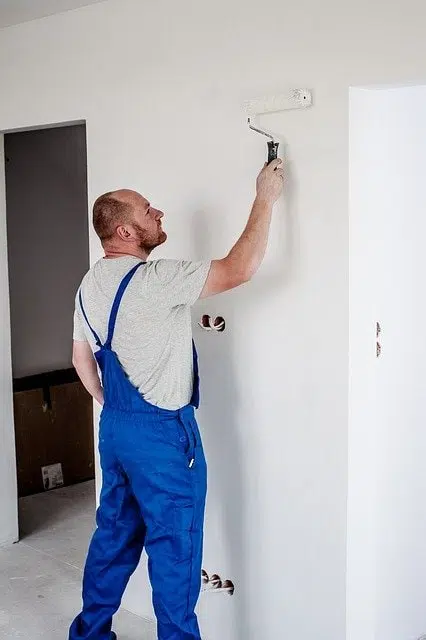 What business owner doesn't want to have a fabulous looking space? We certainly can't think of one. Investing in a professionally well-done paint job can make a huge difference, in your customer's perception, level of business, and your worker's enjoyment of the space.
First impressions
Having a fresh coat of paint and a polished look for your space is going to be the first impression people have when coming into your business. It's simple to give your commercial building some pizazz and curb appeal with bright colors and a well thought out design. Just because you have a warehouse, doesn't mean you can have a fun color scheme.
Employee enjoyment
Even if you don't have a customer-facing location, such as a manufacturing site, that doesn't mean those aesthetics inside and out aren't important. No one wants to feel like they are in a run-down and unkempt space, especially folks that have to be there for roughly forty hours a week.
There is real psychology behind colors in the workplace. Working with a commercial painting professional to find the right style of paint and the right color will go a long way. If you're looking to motivate and inspire, choose something bright like yellow. Or if you are trying to set a more calm tone, go with greens and blues.
Creates a welcoming space
New clients are much less likely to decide to stroll into a storefront if it looks rugged and run-down. Create a warm and welcoming environment inside and out that makes new customers want to explore what your company has to offer.
Extend the lifespan of the space
You can breathe life into an older building or extend the life of a newer space simply by keeping up with paint jobs. A well-maintained building needs a fresh coat of paint every few years, and not only for aesthetic purposes.
The right type of industrial paint that commercial contractors use these days is going to help protect the building from the elements. Exterior specific paints will be waterproof and aid in preventing damage from UV rays from the sun. Particularly if you are in a place with extreme weather conditions this is very important.
Increased property value
If you have even the slightest inkling that at some point you are going to want to sell your space or move locations, do yourself a favor and maintain a quality paint job. For all the reasons listed above, it's critical to utilize top-notch paint to preserve the space.
If you are the owner of the property, it will be much more difficult to sell it if there is water damage or rust from using cheap paint or not doing proper upkeep.
Importance of working with a professional
It can not be understated how crucial it is to work with a professional who specializes in commercial painting. There are countless unique challenges that present themselves with business spaces.
Money savings
When you own a commercial space, you are typically in it for the long haul. Investing in an excellent professional paint job will ensure it lasts for years. Even though it might be a little more upfront than the less costly alternative, as we've gone over, it's well worth it.
Down the line, you don't want to find yourself having to do repairs on the space because the paint didn't properly weather-proof the wood exterior. Not only will you have to pay for the repair, but you'll also find yourself having to pay painters to do it all over again.
Time savings
Hiring a professional to paint your commercial space is going to save you a lot of headaches and more importantly, a ton of time. Going with the "contractor" that only has a few workers and isn't versed in the complexity of business spaces can be a bad choice for several reasons.
Key among them, it will take forever. Opting to hire a pro from the start will ensure that the job isn't just done right, but it's done quickly. A pro will also be able to give you a more accurate time frame for completion because they have done this type of work for years and know what to expect.
Less stress
Choosing to go with a professional means you can take your hands off the wheel. Point them in the right direction, sit back and relax. You have a company to run. You don't have time to manage and supervise painters too!
Rest assured that the work is going to get done right the first time and that it is going to look amazing by choosing a pro that knows the ins and outs of commercial space needs. We know it's already a ton of work to operate a business, don't stress unnecessarily.
Commercial painting project examples we've done in the Dallas area
Omega Industries is a leader in the professional commercial painter game, serving the greater Dallas-Fort Worth area. We have worked with clients ranging from General Electric, SMU to the United States Airforce.
Top-notch commercial painting companies will offer a wide range of services beyond painting, and Omega Industries goes above and beyond. From specialized dustless abrasive blasting or sandblasting, to floor coating, and general contractor work, we are committed to being the perfect one-stop-shop for your commercial location needs.
We even provide a handy how-to manual "The Ultimate Guide to Paint Maintenance for Property Owners." Not only do we do outstanding work, but we also want to see that work last and are focused on helping business owners maintain beautiful spaces.
You can also pop over to our informative blog. If you're looking for an explanation of the drywall installation process or need guidance on how to choose the right exterior paint for your business. Omega Industries helps our clients understand the process every step of the way.
Here are some awesome examples of projects we have worked on.
SMU needed a touchup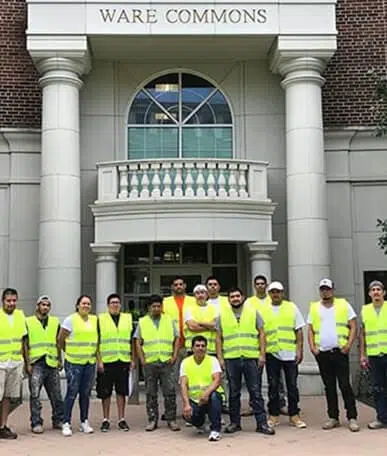 SMU is a major Dallas university, recognized nation-wide, and is in line to be listed as one of the Best Colleges and National Universities for 2021. It was established in 1911, and we'll just say the dorms needed a little TLC.
When the administration decided last minute that the dorm rooms needed to be repainted prior to students returning from summer break, they called Omega Industries. They were confident that the five-day lead time they requested wouldn't be an issue and Omega could get it done in no time.
Such a huge project was going to require extensive planning and perfect execution. With one hundred and twenty-eight dorm rooms to take care of, the planning team broke the sixty-two man crew up to work on each of the three floors. The crew was divided up into teams of twenty painters and a supervisor per floor.
The order was for basic repairs and paint touch-ups. After dealing with covering the crazy amount of dorm furniture with drop cloths, Omega's team decided to repaint rather than just do touch-ups. We knew that it would just look better in the end and we take pride in providing nothing short of quality work.
Additionally, any visible holes or repairs that needed to be attended to were taken care of, regardless of the work order. If there was an issue, we fixed it.
Even with the extra work of going beyond just touch-ups, Omega was able to complete the project in just three days!
MCI commercial location painting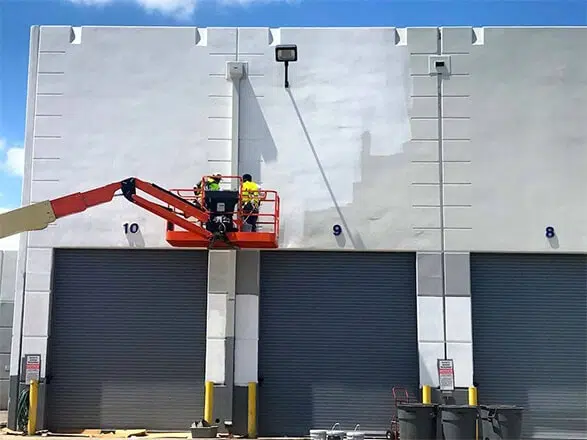 Motor Coach Industries, or MCI, is a multinational leader in motorcoach manufacturing. In 2019 their executive team decided that they wanted to focus on having a more cohesive corporate brand image. This meant that there would be some serious overhauls to the look of their facilities to match the corporate color scheme.
On such a large scale project, this was going to take solid project management and some serious prep and repair work. MCI knew that partnering with Omega Industries was the way to go.
There would need to be considerations made for working around a busy office space and a fast-paced mechanic shop. Plus the wash bays for vehicles presented a challenge due to the high moisture in the space. Not to mention that workers had to be extra careful about overspray in the storage area of the fleet.
We said, no problem! We got to work planning and put together a crew of seventeen workers to get started on the over hundred thousand square foot space. In the planning stages, it was decided to divide and conquer, splitting the crew for interior and exterior work to get the job done fast.
Before the teams could even start painting though, there was cleaning that needed to be done. Removing defective and flaking coats of paint was first on the list. Once that was done we got to work, using moisture-curing products to address the high moisture content in the air around the wash bay.
When everything was said and done, Omega completed the massive project in just four days.
When Hilton needed a hand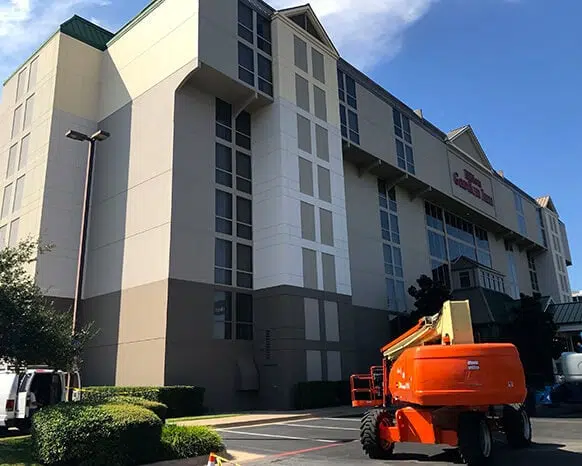 Hilton Garden Inn is a staple for travelers in the Dallas area. The brand prides itself on providing a warm and welcoming atmosphere to business people and tourists alike. When a location was being sold and the closing was scheduled for just six weeks out, they called Omega Industries.
Being part of a large conglomerate, the location had to meet very strict standards. Omega worked with the asset management firm and color consultants to get everything just right. The project was going to require large scale exterior cleaning, caulking, and repainting.
In addition, extra consideration needed to be given to the nature of the business. It was imperative that the guests not be disturbed and that there be absolutely no overspray.
All of this being done properly and within the designated six-week time frame was a prerequisite for the sale. Our expert planners got right to it. With a seemingly small crew of only seven workers, man lifts and scaffolding for the ten-story building were put in place.
We worked with employees on-site to coordinate a painting schedule that was conducive to keep the business running smoothly during the duration of the project. Sherwin-Williams Dryfall paint was used to prevent any overspray and the project was completed in only four weeks, well ahead of schedule for the sale.
Tackling an entire airplane hangar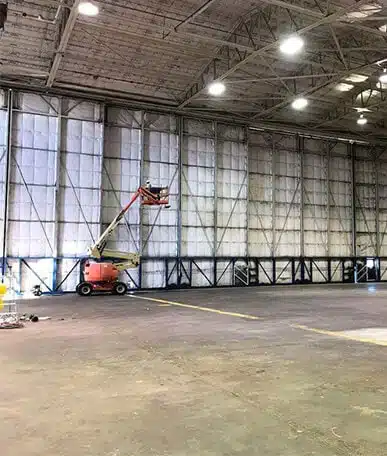 When there are a one-hundred and fifty thousand square foot airplane hangar that needs power washed, who does Southwest Airlines call? Omega Industries of course!
Southwest was looking to tidy up an older hangar at Love-Field airport to impress some executives heading into town to tour the facility. As you can imagine, that is a rather large project. One would assume that type of work would require over a week of work with a huge crew.
Instead, Omega had three whole days to get it done. With such a strict time window for completion, highly detailed planning was in order. Before getting started our planning crew identified potential bottle-necks in the process and managed to put a plan in action to get it done seamlessly.
One hurdle was the extensive background checks and badging protocols that were necessary in order for workers to even be at the location. Again, our planning department handled that quickly to prevent any hitches or delays to the time frame given.
In the end, with an eight-man crew, a handful of man lifts, and strategic planning Omega completed the project within the designated window of time and to the customer's immense satisfaction.
Got a business space to paint? Call Omega
A fresh coat of paint is so much more than that. It's a fresh start, a breath of life, and a creator of beauty. Partnering with professionals like Omega Industries will ensure that you are left with a stunning space, every time.
Our expertise and knowledge of the complexities and unique challenges that larger business spaces present will leave you resting easy. There's no need to worry when you have professionals on your side.