Does your business need a fresh coat of exterior paint for better curb appeal? Are you looking to redesign your interior with colors that align better with your brand? Painting your business can be a great way to spruce it up.
However, a painting project can be quite a process. So where do you start? Following these steps can help guide you through a stress-free process with great results.
From just beginning to plan your project, to signing off on the final result, each part is important. You want to plan carefully to minimize disruption to the workplace. Plus, you want to make sure you're hiring the right painting contractors in Dallas and protecting yourself with a secure contract. Being diligent through all of these steps can ensure you get the best paint job possible.
Planning Your Project

The first step of your process is planning the details of your project. These are likely things you've already been considering. However, it's helpful to get them organized in a detailed outline so you can proceed with more understanding. The reasoning for and scope of your project can help you make decisions as you move forward.
Does your building simply need a fresh coat of paint to improve its appearance? Paint tends to wear and fade over the years. You may just be wanting a new paint job to refresh your commercial building.
On the other hand, a new paint job is a great way to overhaul your facility. You can brighten up the design of your workplace and improve the morale and productivity of employees. You can create a cheery environment to boost the mood of your workers and customers.
Think about how much area you are considering painting. The size of your project impacts your budget, timeline, and the types of colors and finishes that you choose. You can paint your entire facility or limit your project to specific areas.
Does your aging building seem to have to cracked and peeling paint everywhere? You may find that you need a new coat of paint across your whole facility. Think about how this drives your budget and the selection of colors that make sense for the whole space.
If your budget is limited or there are areas that don't need painting, you can limit your project to select spaces. Think about the areas that customers see when they enter or tour your building. This might make you consider prioritizing spaces like lobbies and conference rooms.
Often forgotten places like breakrooms and employee restrooms should also be considered. Smaller spaces usually cost less to paint, but refreshing them can have a huge impact. Plus, their upkeep shows that you have pride in your whole building, not just the areas that are visible to customers.
Decide on Your Budget
Your next step in the process is budgeting. It's important to have a good financial picture of your business and the amount of money that can be allocated to your paint job. This allows you to plan better and be strategic moving forward.
Painting a large facility can be costly. You might find that you'll need to break a large scale job into smaller chunks to meet budgetary restraints. You also might need to scale down the size of the job to meet your budget.
If you have a budgetary approval process, getting your proposed amount approved can be tricky. It's wise to start with the maximum amount you think you'll need for the job. Be prepared to justify the need for the painting with the decision-makers. Showing that you're willing to be fiscally responsible and adjust the size of the job and the amount budgeted if necessary.
Consider Color and Finishes
Paint has the potential to make a huge impact. Consider how you want your space to look before getting estimates. This will give you the most accurate cost projections possible.
Painting your space all in one or two colors is likely the cheapest option you will have. If saving money is your top priority, consider limiting your color scheme. Find a few colors that make sense for your business and focus on the quality of the paint job.
You might be willing to spend a little bit more to make a unique statement. You can opt to have your company's logo painted in the lobby or on a conference room wall. A mural of your company's mission statement or collection of inspirational quotes can create a sense of pride. You can even use a variety of colors to visually divide areas of an open workplace.
The finish of the paint is equally important as the colors you choose. It's also driven by a number of factors. The type of business you run is one of them. It's a good idea to have some knowledge on the finish you think is best for your space before receiving estimates.
The paint finish selected can have a big impact on the cost of materials. Low-traffic areas can do well with a flatter, less expensive finish. However, in areas that are more active, you'll want to pay more for a finish with more durability.
This is also true with the quality of the paint. You'll need to balance your budget with the quality of paint you can pay for. Consider that high-quality paint will last longer, extending the amount of time until the painting is needed again so you can think of the extra cost as an investment.
Research Painting Companies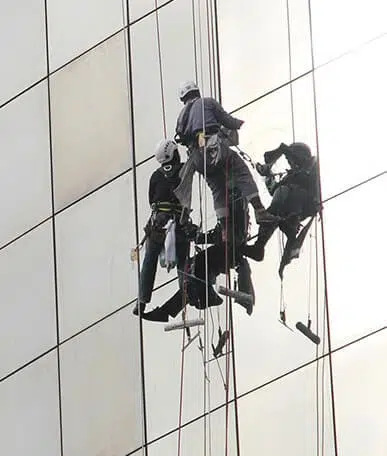 Once you have your project details well thought out, you can begin getting estimates on the work. Finding great contractors can be tricky, but you can look to other businesses and the internet for some helpful information. You'll want to get a few bids so you have a clear comparison.
Reach out to other area businesses to see which commercial painting companies they have had good experiences with. You can even ask to see their work. The stories of past customers can be a good indicator of the quality of service and painting you'll receive.
You can also look online to read reviews of former customers. Look for photos and opinions of companies and facilities similar to yours. Make sure to look at both the company's website, as well as at third-party reviews.
It's important to make sure the company is reputable and reliable. Check social media pages and company blogs for longevity and engagement. Make sure there haven't been complaints filed with the Better Business Bureau. You want to make sure the companies you narrow your selection down to are committed to providing great service.
Once you've researched several companies, reach out to them, and ask some preliminary questions. You don't want to waste time getting estimates if the company doesn't meet your requirements. You should be able to get a good idea of the level of service and quality of work over the phone.
Find out if the company and its employees carry things like the necessary licenses and insurance. Ask how they train their employees or require them to have any specific certifications. They should be able to thoroughly explain the quality of the tools and supplies that they use to make sure their work is top-notch.
Ask about their communication standards. How often will you be updated on the progress of the job? It's important that they have a reliable protocol for any issues or delays that may arise.
You don't want to end up with a job that's constantly pushed back or takes a frustratingly long time to complete. Find out the timeframe they estimate for them to get your painting done. Ask how far out they are booking and how many workers they will provide for your job.
Receive Compare Bids
Once you have vetted a few companies that you are comfortable with, it's time to schedule estimates. A reputable painting company should provide you with a free and convenient quote. They should also be able to provide options to slightly alter the price if needed.
A representative will visit your facility and evaluate the area of your project. They should ask about the result you desire and any special details. They should also be able to provide you with expert advice to get the most of your project.
This is a good opportunity to ask further questions specific to your job. Find out how each contractor intends to work around difficult situations and safely reach any high spaces. It's also important to ask if they foresee any issues with the job.
You should find out their strategy for getting your job done with minimal interruption to the workday. What kind of access will they need to your space? An experienced company will have strong strategies to minimize the impact on your business.
The company should provide you with a clear estimate in writing. It should detail the specifics of the job including the description of the area and type of materials that they are planning to use. They should also communicate any ways you can alter the job to increase or decrease the price.
When comparing estimates, it might be tempting to jump at a super low quote. However, there is often a reason that the price is significantly lower than the others. Be leary of any estimates that seem too good to be true.
It's important to consider other factors besides just the price. Use your instincts and think about your first impression during the estimate. This can give you an idea about the ease of working with each company. It's also essential to compare the quality of the work and the estimated time frame for completion.
Sign a Contract
Once you've selected a contractor, you'll want to sign a contract to make sure both parties hold up their end of the deal. As it's a legally binding document, you'll want to read over it very quickly and check thoroughly for mistakes. You'll also want to make sure all of the details of your job are included. If you have a legal team or lawyer on retainer, it's wise to have them look it over too.
Your contract should include clearly defined payment terms. Never pay for the work upfront, no matter how much you trust a company. You may need to pay some of the amount for work to start, but make sure that your contract stipulates that you don't pay in full until the job is completed and signed off on.
Make sure the contract also includes a strong guarantee. It should state the length of the guarantee and how any issues will be rectified. This ensures that you not only get the quality work that you're promised, but also that the results last.
The service schedule should also be outlined in the contract. The start date and finish date should be clearly stated. A benchmark date for a portion of the work to be completed is helpful, especially for larger jobs.
The contract should also include details on how they intend to complete the job safely. This should include following any applicable rules and regulations. It should also state what you can do to create a safe working environment.
The termination policy should also be clearly outlined. It should include how and when you can terminate the agreement as the customer. However, it should also state how the contractor can end the contract if you aren't holding up your end of the deal.
As with any legal document, it's important to get it right before signing. Your legal department or lawyer can make sure your contract is as iron-clad as possible. You should never feel rushed into signing a contract immediately. Take the time to have them look it over to reduce your risk.
Clean and Prepare Your Space
It's important that your facility is prepped for the painting to be done. You'll want to protect equipment and other surfaces. You'll also want to make sure you have the cleanest environment for the best outcome.
Any walls should be repaired before painting begins. If it's not part of your contract, you will need to make sure to have this done independently. Ensure there are no holes in walls and that there is no water damage that needs to be corrected before your paint crew comes in.
Remove all hanging items from walls and have holes patched. Move furniture pieces away from walls. It might be wise to have fragile or expensive items removed from the space and stored safely.
If possible, make sure the walls are wiped down and free of debris. Try to remove as much dust from the area as possible. You don't want particles to get permanently stuck in the wet paint.
Clear the space as much as possible. This allows your crew to work efficiently and with less hazard. Covering any items that remain in the space can protect them from any paint spills or splatters.
Plan for Possible Impacts on Your Business
Your painting company will try as hard as possible to work around your company's schedule. They will attempt to interrupt your functionality as little as possible. However, sometimes business simply can't go on as usual and it's wise to plan for that.
Keep employees in the loop regarding your painting plans and how they will affect them. Will they have to take a day or two off or work from home? Is there another area of the facility they could temporarily move to until work is completed? Regardless of your plan, it's important to make sure employees know which spaces to avoid so painters can work safely.
You'll want to plan the access scenario for your painting crew. Clearly communicate which entrances and exits they should use. Make sure you let them know if you can provide them with bathroom access or break areas.
Your facility should also be prepped. Paint needs an ideal temperature to dry best so it's smart to make sure the climate control will be set to that range during the project. It's also helpful to provide a water source for your crew to use for certain processes and cleaning. If they need to bring in external water supply for your job, it will increase your price.
If your facility is nearby or attached to other businesses, it's a good idea to give them a heads up. This allows them to prepare for the increased activity and vehicles present during the project. It also gives them the chance to avoid the areas that may experience higher levels of fumes from your painters.
The Painting Process
The time during the painting project is exciting, especially if you're significantly changing the space. However, it's important to try to eliminate any congestion from employees checking out the progress so it can get done safely. It's also important that you keep communication with your crew open and active during this time.
If possible, try to create temporary barriers to eliminate traffic through the areas being painted. It may take some strategic planning, especially if the spaces are common areas or lobbies. Look for ways to divert foot traffic and to communicate that clearly.
You've carefully selected your painting company and they can be trusted to complete the work on their own. However, checking in with them allows you to gauge their progress and ensure they have everything they need. Regular communication keeps the job running smoothly and provides an opportunity to solve any problems quickly.
Try to chat with your contractor every day and observe the progress of the job. Find out if any adjustments need to be made or if there are any issues that you can help resolve. Knowing where they are in the process also helps plan your tactics for keeping employees away from the project as it moves to different areas.
Make sure the project is being done to the specifications outlined in the contract. You want the work to be getting done well, but also along the timeline, you established. Regularly inspect their work throughout the process so any issues can be corrected immediately.
Inspect the Finished Work
When the process is over, you'll need to sign off on the work to complete the project. It's extremely important to inspect the work before approving it. Rushing through this step could lead to regret later.
Look closely to make sure the walls are smooth and even. Make sure borders and clean and crisp. Check carefully for any dents and drips on the walls.
You can also ask a third party for inspection. This might not be a bad idea, especially for large and expensive jobs. They will be able to carefully evaluate the work completed and predict any potential issues in the future. This gives you a chance to have any flaw corrected before signing off on the work.
It's important to sign off on the work only when you are completely satisfied with the job. Finding an issue after your crew has moved out can lead to an expensive headache. You want to have the confidence that the job will last for years to come.
Care for Your Newly Painted Walls
Caring for your walls can ensure that your new paint job looks fresh long into the future. Routine maintenance can make sure your paint job lasts. Creating an ideal environment can also prevent damage.
Be diligent about repairing any leaks that could cause water damage. Make sure the walls are kept clean and free of dust and debris. Keep your painting crew on speed dial to come quickly repair any damage or minor wear and tear.
Avoid extreme temperatures in your facility. It's also important to try to keep damaging chemicals away from painted surfaces. Good maintenance procedures and a solid routine can ensure that your walls are protected.
Conclusion
Everything from how you compare bids to the communication during the project can impact your final result. You have the ability to make the process and smooth as possible. Plus, your careful planning can save valuable money and time.
Whether your project is a huge makeover or a small refresh, the quality of the job is important. It's essential to hire an experienced crew that's committing to using quality materials for the best result. Your research and careful planning will result in a stunning paint job that your business can be proud of.
If You're Looking to hire a Painting Contractor for Commercial Painting Services in Dallas, Contact us now for more information!